Evidence-Based Policies Reduce Flu-Related Illness and Death
January 03, 2023 | Shalini Nair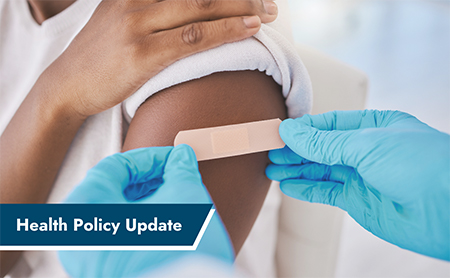 Each year flu season in the United States causes millions of cases and thousands of corresponding flu-related hospitalizations and deaths. Most common during the fall and winter months, flu viruses tend to begin circulating in October and can persist until as late as May. However, it isn't possible to predict the exact timing and nature of flu activity. In recent years, the co-circulation of the COVID-19 virus and the introduction of subsequent protective measures such as masking have contributed to dwindling flu case counts.
Recent CDC data indicate that the flu is back in full force in the 2022-2023 season. As of October 2022, rates of flu-related hospitalization were the highest seen this time in the season since 2010, with 880,000 illnesses, 6,900 hospitalizations, and 360 deaths reported. The continued waning of precautions, persistently low and disparate rates of vaccination, and the added burden of increases in other respiratory viruses such as respiratory syncytial virus (RSV) are all contributing to what may be a tumultuous next few months for the public and the health system.
As ASTHO and other partners recognized National Influenza Vaccination Week earlier this month, it's important to remember that public health agencies routinely provide and/or promote no- and low-cost flu vaccines. Campaigns such as California's Fight Flu Together and Alabama's #NoTimeForFlu aim to spread the word about key prevention measures communities can take to reduce the spread of flu. In addition, over the 2021-2022 legislative sessions, several states have enacted laws addressing flu prevention efforts.
Vaccination Protocols
While CDC recommends everyone aged six months and older receive an annual flu vaccine, some jurisdictions have established flu vaccination protocols for certain settings. For example, Rhode Island requires that healthcare workers either receive an annual flu shot or wear a surgical mask during times of high flu activity. A similar policy applies in South Dakota for state-employed personnel. Additionally, at least seven states require flu vaccination for children over six months old who are enrolled in childcare or pre-K programs.
For older adults and those in long-term care facilities, influenza outbreaks can be particularly precarious. However, healthcare workers in these settings have had consistently lower flu vaccination rates than those working in hospitals. Data shows that vaccination rates are highest in settings where they are required as a condition of employment, and long-term care facilities in 33 states have been recognized for implementing such protocols.
In 2022 Delaware enacted SB 253 allowing nursing homes and assisted living facilities to hire staff contingent on their receiving an influenza vaccination. Under existing Delaware law, facilities are required to offer onsite, no-cost vaccination to employees and to keep on record signed statements confirming receipt of vaccination.
Adults aged 50-64 have the second highest flu-related mortality rate behind those aged 65+. Georgia's new law, HB 1086, aims to increase flu vaccine coverage and reduce illness spread by lowering the age at which hospitals are required to offer the vaccination to inpatients before discharge. Previously, hospitals had to offer both the flu and pneumococcal vaccines to patients who are 65 years of age or older. Moving forward, the required age for offering influenza vaccines will drop to 50 years.
Immunization Administration
States are also working to expand access to flu vaccines by modifying scope of practice requirements for eligible vaccine administrators. Such expansion not only allows healthcare providers to support a more diversified workforce of qualified vaccine administrators but can also support community-based efforts to increase vaccine uptake and expand access for harder-to-reach populations.
Pharmacists in all 50 states are currently permitted the authority to administer influenza vaccinations, with variations by patient age limit. In January 2022, HHS issued an amended declaration under the Public Readiness and Emergency Preparedness (PREP) Act extending liability protections for licensed pharmacists and interns to order and/or administer seasonal influenza vaccines. In addition, at least three states—California, Georgia, and Wisconsin—have already enacted new legislation allowing additional subgroups of healthcare workers to administer vaccines.
Emergency medical technicians (EMTs) have the potential to act as beneficial "force multipliers," expanding the reach of existing community efforts to advance flu vaccination. In Georgia, a new law (SB 46) allows EMTs and certified cardiac technicians or trainees to administer vaccines during a public health emergency and under the order of a licensed physician. EMTs and certified cardiac technicians were previously confined to first aid, resuscitation services, and administrating parenteral injections, intravenous solutions, and/or opioid antagonists.
New laws in California (AB 526) and Wisconsin (SB 13) seek to diversify the settings in which patients can receive a flu vaccine by expanding the scope of practice for nontraditional groups of vaccine administrators. Under the California law, dentists and podiatrists are authorized to independently prescribe and administer influenza vaccines to individuals above the age of three. The law specifies that both groups must complete an immunization program biennially as well as comply with all state and federal record and reporting requirements to practice in this capacity.
Similarly, Wisconsin's law allows dentists to administer influenza vaccinations to those above the age of six without a prescription after completing 12 hours of training on vaccine storage, protocols, administration technique, and emergency procedures, maintaining appropriate record keeping and having liability insurance that meets certain requirements. For individuals under the age of six, additional training as well as a prescription is required.
The Season Ahead
As the nation braces for the peak of the 2022-2023 flu season alongside COVID-19 and upticks in other respiratory pathogens, state legislation diversifying the vaccine administrator workforce and expanding workplace regulations that support patient safety represent beneficial steps forward in reducing the impact of influenza. Read more on emerging legislative trends in this area in ASTHO's 2023 Legislative Prospectus on immunization.
ASTHO will continue to track legislative and executive action on this important public health issue.