Empowering Connection Through STRETCH
September 26, 2023 | Autumn Woodbury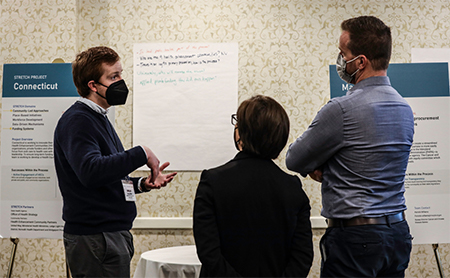 State team members in conversation during the gallery walk at the January 2023 STRETCH Stakeholder Summit.
During the first cohort of the Strategies to Repair Equity and Transform Community Health (STRETCH) Initiative, the CDC Foundation, ASTHO, and Michigan Public Health Institute—with support from the Robert Wood Johnson Foundation—held two hybrid convenings where ten state teams engaged with content experts and each other. The January 2023 STRETCH Stakeholder Summit and April 2023 STRETCH Stakeholder Meeting left state teams with increased knowledge, helpful tools, strengthened relationships, and new connections they could utilize in advancing their health equity work.
Building Stronger Networks
The January 2023 STRETCH Stakeholder Summit focused on the sustainability of STRETCH work and provided networking opportunities. Participating states learned more about the systems change model, accompanied by a gallery walk of state posters that highlighted their projects. State teams were able to see the similarities and differences in their work as well as how other states successfully overcame barriers. One state team member reflecting on the gallery walk said, "We like to see what works for other states because then we're hopeful...They [leadership] are more likely to give us support if they see that other states are being successful in their actions."
A workshop on power dynamics walked state teams through how to navigate internal and external political climates while still progressing STRETCH work. Throughout the workshop, states were provided with power mapping and networking tools to move the work forward in spite of challenges. One state team said they planned to use the resources provided in the workshop for "team-building exercises to learn more about power, social identity, etc." In addition, state teams were given real-world examples they could use to improve health equity in their communities from an ASTHO Alumni Peer Group that shared their experiences and the best practices they had learned.
While state teams attended sessions at the summit, state leadership attended an executive leadership circle that focused on accountability and sustaining efforts to advance health equity. As a result of this and other executive leadership circles held throughout the STRETCH initiative, some state teams reported seeing an increase in interest and goal alignment from their leadership teams.
Overall, state teams felt the January summit increased their internal and external relationship-building. The information and resources provided were "valuable" and could be used to "develop a health equity training" or for "implementing progress for an equity-oriented approach." One state team that planned to incorporate their summit takeaways into their work of integrating foundational equity learning into staff development commented, "Being able to share space with other states who are facing similar challenges and doing similar initiatives around training and workforce development, or just broader health equity, was really useful."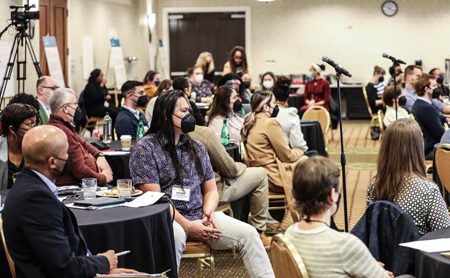 State teams and partners at the January 2023 STRETCH Stakeholder Summit.
During the April 2023 STRETCH Stakeholder meeting, state teams heard a presentation from Samia Byrd on the Realizing Arlington's Commitment to Equity (RACE) Strategic Framework and examples of how Arlington County successfully used it. The framework includes an equity lens tool that uses five guiding questions to determine where racial inequities exist and if a policy, procedure, practice, or program is creating or exacerbating them. State teams then utilized this equity lens tool to operationalize equity into a policy or practice they chose to focus on. One state said they planned to "incorporate concepts from the Arlington RACE framework into [their] own public health program equity assessment toolkit," and another said that they would "apply some of the concepts in the RACE framework in [their] efforts to integrate equity work at [their] organization." In breakout groups, states actively engaged with each other about operationalizing equity. They shared challenges, offered solutions, and brainstormed innovative ideas together.
Ovation, a communication skills training firm, spoke at both events about the importance of storytelling in community building and engagement. These insights could help state teams improve relationships and develop buy-in from stakeholders. The opportunity to connect not only virtually but also in-person gave states the space to network and share resources. One state team used the networking time to learn how other states structured their offices of health equity, which then led to follow-up conversations that helped guide the state's decisions on their offices' direction and staffing needs.
The number one takeaway that was echoed by state teams after both events was the feeling that they were not alone in this work.
"When you do equity work, it can be isolating at times. And having those in-person convenings allows for some restorative practice amongst your colleagues so that we can continue to have the energy, continue to bring new ideas and thoughts, and learn from national thought leaders. And having that in-person networking is key."
STRETCH 2.0
For the next phase of STRETCH, up to seven community collaboratives—consisting of a state public health agency and a community partner/coalition—will go through intensive capacity building that focuses on relationships, connections, and power building to operationalize health equity. Participants will be engaged at the collaborative, cohort, and national levels, and they will have the opportunity to connect and exchange knowledge with collaboratives across the country. Through STRETCH 2.0, state teams and their community partners will be invigorated to continue pursuing health equity and once again feel that they are not alone in this work.