Embedded: Delaware Stands Up a Functional Assessment Service Team
March 31, 2022 | Debra Young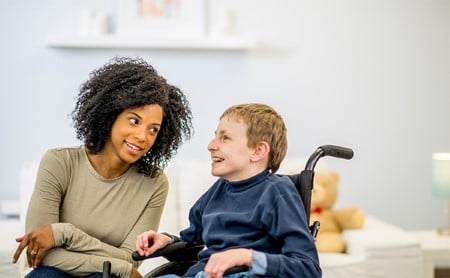 Ensuring the needs of people with disabilities and others with access and functional needs before, during, and after disasters and emergencies is a priority of the Delaware Department of Health and Social Services, Division of Public Health, Emergency Medical Services and Preparedness Section (EMSPS). With an eye to sustainable program development and an all-hazards approach, EMSPS envisioned setting up a Functional Assessment Service Team (FAST), which trains people who have a background working with or caring for people with disabilities or others with access and functional needs and deploys them to emergency shelters and/or centers. During disasters or emergencies, trained FAST members ensure people with disabilities and others with access and functional needs can safely stay in a community shelter and/or center for the duration of the incident and to help them safely return home.
The COVID-19 pandemic provided an unprecedented opportunity to speed up developing Delaware's FAST and to test it at scale. After a few weeks on the job, EMSPS deployed me to pilot the FAST at a COVID-19 mass vaccination point of dispensing (V-POD) for Delawareans ages 65 and older. Knowing that this was just the beginning of EMSPS' supported COVID-19 V-PODs, I collected data to assist with both planning and justification for equipment needs and staff resources for future V-PODs and incidents that may require standing up shelters and/or centers. I created a V-POD planning checklist for determining levels of FAST services to help determine FAST presence specific to staffing and resources needed per V-POD size and type (e.g., drive through vs. fixed facility; age specific vs. general population) using lessons learned on the ground.
Key Considerations for Implementing FAST
Equipment Kits
Assistive Technology (AT) and FAST kits at emergency shelters support the needs of people living with disabilities. Prior to the COVID-19 pandemic, EMSPS created AT kits with technology accommodations for hearing, vision, communication, and fine motor coordination for small-scale flu V-PODs. Per my suggestion, EMSPS added additional equipment to the AT kits to meet a spectrum of needs. EMSPS also created FAST kits with specific equipment to meet the needs of people with disabilities and others with access and functional needs who need to stay overnight in an emergency shelter.
To accommodate needs and requests that cannot be fulfilled by either the AT or FAST kit, (e.g., portable oxygen concentrators, chargers for power wheelchairs) there is an established process to obtain necessary support. Through this process, the Human Services Branch Director (HSBD) from the Department of Health and Social Services is alerted to the need. The HSBD then coordinates the provision and delivery of mass care services, working closely with other sections/branches as necessary to establish priorities for resource allocation.
Official Documents
To move the vision of a FAST from pilot to reality, I developed multiple official documents and participated on EMSPS' team to create the FAST Standard Operating Guidelines. I also created FAST Lead and Member Job Action Sheets, a FAST volunteer eligibility form and the FAST assessment. These documents are used at the shelters and/or centers to help identify accommodations and supports.
Trainings
I also created trainings (e.g., narrated PowerPoint trainings for the AT and FAST kits, a video demonstration on manual wheelchair use and safe consumer handling) for the FAST volunteers. EMSPS added these trainings to the list of required training for FAST members to be eligible for deployment.
Recruitment
Completing outreach, relationship building, and bridging partnerships are expected as part of the ASTHO Disability & Preparedness Specialist role. I identified occupational therapy professionals as a good fit to be FAST volunteers. I completed a virtual presentation for the Delaware State University, Wesley College of Health and Behavioral Sciences, Master's in Occupational Therapy program students and faculty to raise awareness and to recruit FAST volunteers, who would be integrated into RespondDE, Delaware's reserve units of medical and non-medical volunteers available for emergency preparedness response. Collaboration between the EMSPS and RespondDE was critical to advancing the FAST program.
Early Outcomes Are Promising
During the COVID-19 pandemic response, the remnants of Hurricane Ida caused historic flooding in Wilmington during the first week of September 2021. Flooding from this incident prompted more than 200 water rescues and activating an emergency community shelter. I was deployed to this shelter as the FAST lead; the official documents completed during the summer months came in handy. The HSBD also deployed an AT kit and a FAST kit to the shelter. I was able to utilize the newly created FAST assessment to accommodate the needs of evacuees with disabilities.
States can start the process of standing up a FAST by first taking a critical look at what is already in place and where there may be gaps related to the key considerations for implementation.
Additional Resources