Elevating Community Voices Through Health Equity Leadership
December 29, 2022 | Kimberlee Wyche Etheridge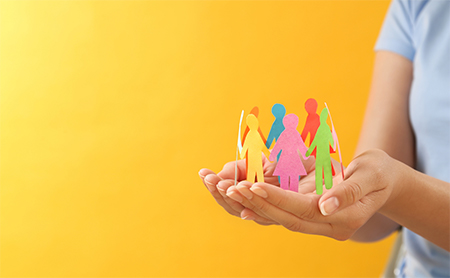 To move health equity forward requires courageous leadership, not—more simply—management. The role of management is to direct and control the activities of others to cope with the complexities that may occur when moving an organization toward its goals. On the other hand, the role of a leader is to influence and inspire others through change to achieve shared goals. To excel in this space, there are certain characteristics that a good leader should have. These include an understanding and willingness to not shy away from the history that may be undermining health equity, a spirit of humility, the ability to listen to understand when working with a community, and the integrity to lead from a place of shared morals and values. Leadership can be situational and transitory and doesn't require a title. Often, it is specific to a situation.
As part of the Diverse Executives Leading in Public Health (DELPH) program, four DELPH scholars from the second cohort shared their experiences with health equity leadership. The scholars—Ryan Natividad, Sounivone Phanthavong, Krystle White, and Felicia Veasey—each address health equity issues in their work at the state and local level, providing a perspective on public health in action. For this blog post, they responded to the question, "Which is more important for leadership in health equity: to influence the community to follow the leader's vision or to influence the community to follow their own vision?" Their experiences offer a perspective for how public health leaders can advance this important work.
RYAN NATIVIDAD:
It is important for communities to discover and follow their own vision of what it means to be thriving and successful. Everyone has inherent power, and, unfortunately, many underserved and underrepresented communities have been told that they are powerless. These same communities are the ones that are often under-resourced. True health leadership and equity work means uplifting their existing assets, so they can leverage them for their own betterment. By providing community members with capacity-building tools and resources, they can accelerate their community goals.
KRYSTLE WHITE:
Encouraging our community members to follow their own vision lays the groundwork for building consensus amongst all parties involved and developing momentum around a shared goal. As public health leaders, history has shown that there is a level of mistrust amongst those whom we serve. To combat this dynamic, we should always look toward and directly involve those for whom we are developing initiatives. The voices of the community are critical, as they have more insight, wisdom, and influence to sustain program interventions and can help put equity at the forefront. Not doing so leads to a lack of participation following the implementation of the program initiatives and further helps to perpetuate the sentiment that the healthcare profession always knows best.
One example of how this transpired in my community involves a former literacy community event that a partner organization wanted to host in one of the underserved areas of our county. Without consulting the local leaders and residents within the identified neighborhood regarding the program logistics, such as the best time and location to host the event, the event failed to produce any participants. It was later revealed that the community members felt as if they didn't have a say or provide any level of influence on developing the literacy event in their neighborhood and, in return, boycotted the event.
SOUNIVONE PHANTHAVONG:
A leader should elevate and amplify the experiences of the community, engage with empathy, facilitate support, and mobilize others. Particularly for communities that are marginalized by systems intentionally designed to oppress them, upending traditional power dynamics will help ensure changes are supportive, sustainable, and responsive to the needs of a community.
Progress towards health equity requires the participation of the community to change systems. Leadership with a goal of promoting health equity should influence the community to follow their own vision. Communities experiencing systems of inequity and disparate health outcomes are experts in their own experiences and have the best understanding of their needs.
FELICIA VEASEY:
To ensure we are meeting the needs of each community, we can identify needs through surveys, needs assessments, focus groups, etc. We can work collaboratively with the community to create a health improvement plan that not only empowers them but is also inclusive and gives them a stake in creating the vision and activities to support it. A health equity leader plants the seed (vision), works alongside the community, encourages community engagement, shares their thoughts, and supports the end goal while giving the community tools for sustainability. As a leader, you want to inspire innovation by teaching and encouraging your team and community to achieve optimal results.
Examples of Health Equity in Action
WHITE:
A successful example of incorporating the community and their voices involved the development of a food enterprise in one of the most food-insecure areas of Gaston County, North Carolina. A group of local health and human services professionals made it their mission to become actively involved in the neighborhood association meetings of one of the county's underserved communities. In doing so, they were able to uncover data that suggested one of our prominent African American communities was in an extremely food insecure area that was also experiencing rising rates of diabetes, hypertension, and cancer. Working in tandem with the neighborhood association, the leaders were able to secure grant funding to develop a ready-to-go nutritional meal enterprise that not only helped to combat the food insecurity issue, but also established several jobs for community members as they were given the reigns to develop, establish, and implement the food enterprise as a sustainable business.
VEASEY:
Health department leaders should use data to drive their work, seek funding to address disparities identified in data reports, and implement deliverables with the help of community partners.
The common concern in the community is what happens when the funding is no longer available. For examples, food insecurity was an issue in a rural community within my region. Public health staff worked with the residents in the area to identify and secure funding to start a community garden. The community invited key community organizations and officials to assist with the initiative. While the public health staff has changed, the community garden continues to serve the community over 10 plus years later. They fostered their vision and continue to take care of their needs as a community with the public health staff providing technical assistance.
We can see that health equity is being addressed at every level of public health, and our DELPH scholars are a great example of that working being done.