Diversity in Public Health Leadership Has Never Been More Important
March 22, 2022 | ASTHO Staff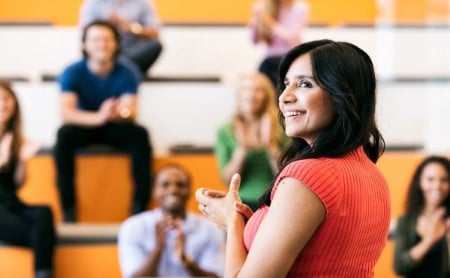 ASTHO, and the Satcher Health Leadership Institute (SHLI) at Morehouse School of Medicine began the Diverse Executives Leading in Public Health (DELPH) program in 2021 with funding from CDC's Center for State, Tribal, Local, and Territorial Support (CSTLTS). The program recruits mid-to-senior-level governmental public health professionals from underrepresented groups in public health leadership to support learning, networking, and professional development opportunities to grow a diverse cohort of leaders nationwide.
In its first year, DELPH scholars have already connected to form a tight-knit community. With ASTHO's and SHLI's network of public health professionals, we have introduced and expanded our scholar's network to connect with and learn from diverse perspectives of what it takes to lead in public health. While the scholars work on their professional networks, they also take personal leadership assessments to build upon their leadership experience in their organizations. With executive leadership coaching and self-reflections, the scholars are encouraged to think "outside the box" of what they have come to expect from traditional leadership styles. Looking ahead to our future programing, the scholars will continue to build on their leadership skills and learn from one another in this cohort style of learning.
In this series, ASTHO will interview the current DELPH cohort. Today, we're speaking with Luci Longoria, a chronic disease manager from the Oregon Public Health Division and Lt. Commander Traci Murray, assistant regional administrator for the Substance Abuse and Mental Health Services Administration (SAMHSA) and a nurse officer in the United States Public Health Service.
Why did you apply to the DELPH program?
LONGORIA: This pandemic has taken such a toll on communities and particularly on public health professionals. We need to support resiliency and create community—especially people of color, Black, Indigenous, and LGBTQ+. These are the public health professionals who will really help figure out the public health problems of the future.
What advice do you have for someone considering the DELPH program?
LONGORIA: Um…apply! I did not anticipate the opportunities that would come. Just the relationships and networking opportunities, the space for contemplative practice around these very important issues, and the wonderful people that I encounter in the community with people from such diverse backgrounds. It has been enriching and truly nourishing for my spirit. I hope more people can have this kind of experience.
What does it mean for you to be a part of a program focused on bringing diverse perspectives to public health leadership?
LONGORIA: In a time when we are feeling perhaps more polarized than ever, it's critical that we put ourselves into environments where we really challenge ourselves and question our biases. We have to get uncomfortable and talk about the ways that we fall down. We can laugh, cry, feel pain, and joy. In chronic disease, the burdens of cancer, heart disease, stroke, and diabetes have disproportionately hit communities of color. It's so important that we acknowledge that and talk about real solutions.
What are your goals after the DELPH program?
LONGORIA: DELPH has connected me with peers who can discuss our successes and the mistakes or stumbles we've had in our careers. And that's especially true for me being a white-passing, cis gender person of color and Latinx woman. The goal is how to recruit more people of color and LGBTQ+ people into the public health work force, retain them, and help them be resilient in organizations that have been built in white supremacy culture.
Any other thoughts you'd like to share?
LONGORIA: Just to express my immense gratitude to SHLI, ASTHO, and CDC for them to have the vision and foresight to know that this was crucial for the future of public health. Especially for those communities most burdened…who have built this country, to help carry them through to a more joyous and resilient society that cares for each other.
What has been the most significant impact on your leadership journey thus far?
MURRAY: The most significant impact for me has definitely been mentorship. Very early on in my career, even as an undergraduate nursing student, I identified professors who were doing things I was interested in and really went under their wing and asked for advice. And not just in the classroom, but about what it meant to be a nurse of color.
What aspects of the DELPH program have you found most beneficial?
MURRAY: Hands down, it's finding a community. Many times, it can feel like you're the only one having a certain experience, question, or struggle. By the time the program ends, our bond will be so tight that we'll be connected for a very long time.
What advice would you give to the next generation of public health leaders?
MURRAY: Find a mentor. Find a coach. Find someone who's doing the thing you want to do. And that thing could be a job, it could be working in a particular agency, it could be public speaking. But find that person and sit alongside them. Invite them into your space so that you can learn how they got there. That's essential for the future generations of public health. I would advise people to take a risk and bet on yourself because in the end you know it'll be worth it.
Anything else you would say to someone considering joining the DELPH program?
MURRAY: What are you waiting for?! Remember you are investing in yourself! We all have the same amount of time in our day. When you begin to prioritize yourself, your career, and your future, then you can find the time for the commitments that DELPH requires…and they're totally doable because we are all working individuals.
Any closing thoughts or words of wisdom?
MURRAY: You may not realize how much you really need a community of young, diverse leaders around you. You may not know how much you're missing until you get in a room with so many people who are right there where you are…who have similar experiences and have been in the bus, under the bus, trying to get on the bus. People who can understand all those experiences and can say, "Hey, I see you. I've been you. I'm you right now. I'm you tomorrow."