Dengue Preparedness in the U.S. Territories and Freely Associated States
May 19, 2023 | Marisa Wong, Courtney Youngbar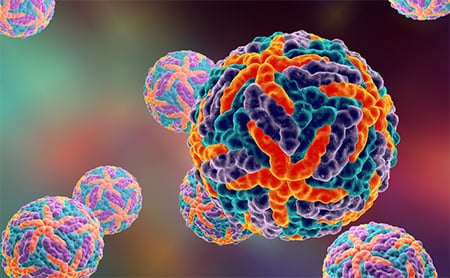 Almost half of the world's population lives in areas with a risk of dengue, including the United States, U.S. territories, and freely associated states. Up to 400 million people each year get infected with dengue worldwide. Of those infected, 100 million get sick, and about 40,000 die from severe dengue.
Dengue virus spreads through the bite of a female Aedes mosquito infected with one of four related viruses, or serotypes. Three out of four dengue infections present as asymptomatic, leading to a gross underestimation of incidence and prevalence rates. However, symptomatic individuals usually experience fever and additional symptoms of nausea, vomiting, body rashes, aches, or pains. One in 20 people will develop severe disease, which can lead to death.
Currently, there are no specific treatments available for dengue. Those who have recovered from infection against a specific serotype are believed to have built lifelong immunity to reinfection from that serotype.
Dengue as a Concern for the Continental United States
While almost all dengue cases in the continental United States are travel related, there have been a few locally transmitted outbreaks in Texas (2013), Hawaii (2015), and Florida (2013, 2020).
Historically, a single dengue serotype would dominate an endemic region every three to five years. In the Pacific, 2012 surveillance patterns identified that all four serotypes were concurrently spreading in an outbreak for the first time in a single year. Since then, this pattern has repeated itself in both 2016 and 2017. The characteristics and treatment options for the disease, expanded habitats for Aedes mosquitos, travel-related transmission, and the possibility of all four dengue serotypes in simultaneous circulation show that dengue is a significant threat to the continental United States.
Both the Pacific and Caribbean are on the front lines of this health security threat. Many island areas are doing great work to combat dengue. Here, we highlight some of the ongoing efforts in dengue control in the U.S. Affiliated Pacific Islands (USAPI) and Puerto Rico.
Developing Early Warning Systems in the USAPI
The Pacific Island Health Officers Association (PIHOA) represents the collective interests of the USAPI with health officers from American Samoa, the Commonwealth of the Northern Mariana Islands, the Federated States of Micronesia (FSM), Guam, the Republic of the Marshall Islands (RMI), and the Republic of Palau. With multiple dengue outbreaks occurring in USAPI after 2018, PIHOA advocated for the USAPI Vector Management Improvement Strategy and Implementation Plan, which develops capacity for regular public health and mosquito-based surveillance to prevent vector-borne diseases.
Since 2020, FSM and RMI have been supported by PIHOA and the U.S. Department of State's Bureau of Oceans and International Environmental and Scientific Affairs (OES) to develop predictive models for dengue outbreaks. This effort aims to provide additional time for Island Areas to prepare for an upcoming dengue outbreak, which may include additional training and the implementation of vector control efforts.
In 2021, FSM and RMI expanded their work to implement predictive models as part of their preparedness plans. Looking at the climate (i.e., temperature extremes, precipitation patterns), health, and sociodemographic variables that influence dengue will help shape response capacities, with the hope of expanding this proactive approach to other island jurisdictions.
The Republic of Palau joined PIHOA's work in 2022 with additional OES funding under the Diminishing Dengue in the Indo-Pacific with Climate Services cooperative agreement. Through this additional partnership and funding, the three U.S. freely associated states and PIHOA will convene in early June 2023 to share climate roadmaps with the vector program managers in the other 18 Pacific Island countries and territories.
Dengue Vaccine Implementation in Puerto Rico
With the ever-growing burden of dengue, preventive action is desperately needed to combat the spread of the virus. A dengue vaccine would do just that by advancing disease control in a safe, effective, and affordable manner. In 2015, Dengvaxia dengue vaccine was licensed in Mexico for use in people aged 9–45. In 2019, the FDA announced its approval of Dengvaxia for use in children aged 9–16 years with laboratory-confirmed previous dengue virus infection and living in dengue-endemic areas.
With suspected dengue cases increasing to more than 5,000 in Puerto Rico and dengue being endemic in Puerto Rico with no treatment options, the need for deploying a dengue vaccine was urgent. To implement a high-coverage vaccine program, the Puerto Rico Department of Health focused on minimized vaccine costs, pre-vaccination screening through serological testing, a robust arbovirus surveillance system, education, and post-vaccine safety and surveillance.
As part of their education efforts, Puerto Rico developed training, and educational materials for physicians, medical students, nurses, and parents. Pre-vaccine screening and vaccine costs would be paid for by private health insurance, Medicaid, or the Vaccines for Children program. Currently, Federally Qualified Health Centers and satellite clinics offer the vaccine, and three reference laboratories on the island can perform pre-vaccination screening tests.
To ensure vaccine logistics do not pose obstacles, Puerto Rico developed processes for clinical providers who do and do not have onsite laboratory and vaccination services. Vaccine safety is monitored through the Vaccine Adverse Event Reporting System to track any side effects, hospitalizations, and severe dengue associated with Dengvaxia vaccination.
Puerto Rico's vaccine implementation program serves as a model for other island areas in terms of resource coordination, training efforts, and surveillance methods and can help control dengue virus transmission.