Cultivating Gen Z as Partners for Healthier Communities
December 05, 2022 | Brandi Hight Bank, Emily Dore, Nick O'Toole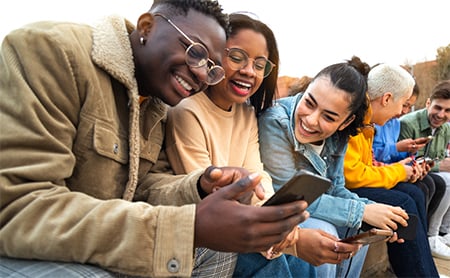 As seen in the midterm election results, young adults in Gen Z are a powerful, growing force in electoral politics and our communities. One in every eight voters in this past mid-term election was under age 30. Public health leaders are wise to communicate with this group, as a constituency whose interests—be it climate, economic security, or racial and ethnic equity—often align and intersect with public health.
The COVID-19 pandemic introduced many young people to public health for the first time as they witnessed and participated in local response. Interest in public health careers has grown over the past decade, but the desire to contribute spiked during the pandemic. In fact, applications to public health graduate programs applications rose more than 40% in 2021 compared to 2020.
Taking stock during pandemic recovery and preparing for the challenges ahead, it is a unique moment to build and strengthen trust in public health with young adults.
Why Connect with Young Adults
More than 40% of the U.S. population—140 million Americans—is either in the Millennial (born from 1981-1996) or Gen-Z (born 1997-2012) cohort. Not only do young adults have significant influence over our collective future, they also have an uncharacteristically large stake in shaping that future. Debt, the climate crisis, and rapid technology shifts are just a few of the pressing issues waiting for them as they enter the workforce.
Young adults are at a nexus of being both digitally native and highly concerned with societal woes. Given their heavy online presence, young adults are a critical audience for public health messaging and a potential powerful amplifier of behavior change and key messaging.
Concern over major issues (e.g., mental health care, economic inequality, and racism) primes young audiences to be more aligned with organizations that have a strong mission statement and are passionate about the global good.
How To Reach Young Adults
It's not news that young adults spend much of their time online. Young audiences expect public health campaigns to mirror their experience as a consumer, and public health leaders should be familiar with how to develop digital-first approaches. Going digital shouldn't preclude partnerships and in-person events, but a strong online presence amplifies community engagement.
It's important to define your audience and which platform best reaches them. Snapchat, TikTok, and Instagram rank highest in usership for young audiences, while Baby Boomers (or, simply Boomers) mostly utilize Facebook and YouTube. It's critical to know both which platforms to use and how to convey your message. A few rules include:
Make content digestible, visually appealing, mobile friendly, and video-based.
Engage young audiences in co-creating products and messages on issues that affect them. Ask engaging questions, use hashtags, and invite engagement with your organization.
Don't be afraid to think outside the box! Consumer brands often create a noisy online environment and best practices mandate a social media presence. It's more important than ever to ensure audiences can hear your "voice" and find your content.
Luckily, public health officials have two important tools: authenticity and a social mission that naturally connects with many Millennials and Gen Z. These are strong competitive advantages that allow public health messaging to resonate with young audiences and cultivate their trust and engagement in building healthier communities.