Courts Considering Challenges to States Blocking School Mask Requirements
October 21, 2021 | Maggie Davis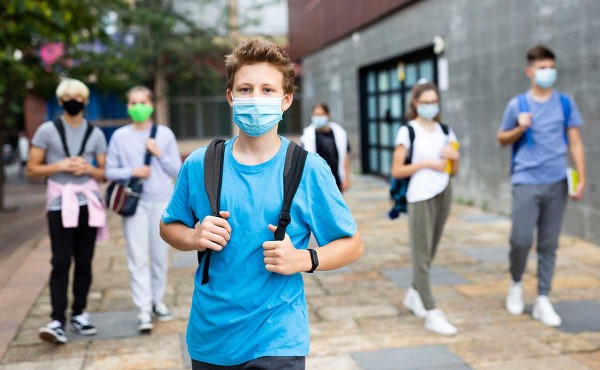 Recent state laws and governor emergency orders prohibiting universal school mask protocols are complicating the implementation of CDC's evidence-based guidance for COVID-19 mitigation measures for in-person school. Ten states have enacted laws (Arizona, Arkansas, Iowa, North Dakota, Oklahoma, South Carolina, and Utah) or issued executive orders (Florida, Tennessee, and Texas) to limit or prohibit issuing universal face mask protocols for schools and in eight of these states the law or order now faces a legal challenge.
Lawsuits Based on Federal Protections for Students with Disabilities
Federal law guarantees students with disabilities the right to free appropriate public education, prohibits discrimination based on disability status, and ensures equal opportunity to benefit from services and programs offered under Title II of the Americans with Disabilities Act (ADA) and Section 504 of the Rehabilitation Act. Challenges in five states— Florida, Iowa, South Carolina, Tennessee, and Texas—assert that the mask prohibitions violate these rights.
In May 2021, Iowa enacted HF 847, preventing school districts from requiring face coverings. Last month, the Arc of Iowa filed a lawsuit on behalf of students with disabilities asserting that the new law fails to provide the students equal access to education by effectively excluding them from the classroom. A federal court temporarily blocked the law, acknowledging that it appears to violate the ADA by prohibiting a reasonable accommodation (e.g., requiring masks by all persons in a school) that would enable students with disabilities access to free appropriate public education. The court found that it "excludes disabled children…and denies them the benefits of public schools' programs, services, and activities to which they are entitled." Iowa Governor Kim Reynolds announced that afternoon that the state will appeal the decision.
In June 2021, South Carolina enacted a law withholding state funds from school districts that require face coverings in education facilities. Several disability rights organizations sued the state for effectively excluding students with disabilities "by creating an unreasonably dangerous environment" for them to participate in-person with classmates. On Sept. 28, 2021, a federal court temporarily blocked the law, finding that a universal school mask requirement is a reasonable accommodation to ensure that all students have access to free appropriate public education. South Carolina's governor and attorney general plan to appeal the decision.
In September 2021, a federal court in Tennessee temporarily blocked Executive Order 84, which required school districts to grant exemptions to any mask requirement when requested by a student's parent or legal guardian. In effect, the order made any school mask protocol optional for those who opposed it. The court found that the order likely violated the rights of students with disabilities who are unable attend class without the reasonable accommodation of a universal mask requirement. Later in the month the court reaffirmed its findings and continued to block the law on the basis that universal mask requirements in schools is a reasonable accommodation to protect students with disabilities.
In August 2021, families of students with disabilities in Florida sued the state to block an executive order that threatened to withhold education funding from school districts issuing universal mask protocols. Unlike the cases in Iowa, Tennessee, and South Carolina, the federal court in Florida declined to block the executive order on the basis that the families did not go through the process of first filing their complaint that the lack of a universal school mask protocol infringed on the right of students with disabilities with the local or state educational agency. Furthermore, the court determined that families did not demonstrate how preventing school districts from enacting mask requirements would irreparably harm students with disabilities.
An advocacy group, Disability Rights Texas, recently sued the state, asking a federal court to block the state's executive order claiming that it prevents local school districts from making the reasonable accommodation for students with disabilities of an universal mask requirement. Although the court has not issued an order in the case, the United States Department of Justice recently filed a statement of interest in the case asserting that if the allegations in the lawsuit are proved, it would violate the rights of students with disabilities under federal law and should be blocked.
Lawsuits Based on State Law
There are also several legal challenges alleging violations of state constitutional law. For example, a Florida state court temporarily blocked the governor's executive order, finding that the governor failed to show that he had the authority to withhold school funding appropriated by the legislature. The court also found that the state's recently enacted Parents' Bill of Rights, which limits any government action related to a child's education or health, does not prohibit school districts from adopting universal mask policies. Florida Governor Ron DeSantis has appealed the lower court ruling.
In April 2021, Arkansas enacted a law making the state legislature solely responsible for school-masking protocols for public school students. An Arkansas parent whose children are too young to receive FDA-authorized COVID-19 vaccines sued the state, arguing that the law violated the separation of powers and right to adequate free public education under the Arkansas State Constitution. On Aug. 6, a state circuit court judge temporarily blocked the law, finding that the legislature exceeded its authority by prohibiting executive branch officials (e.g., the governor, state health official) from issuing any future emergency order implementing face mask protocols in school to protect public health and safety. It also found that the legislature did not provide a clear reason to treat students attending public schools differently than students attending private schools. Following the court order, more than 100 Arkansas school districts instituted mask protocols and the Arkansas attorney general appealed the ruling to the Arkansas Supreme Court, which has arguments scheduled for November.
Parents of Oklahoma public school students filed a lawsuit in August 2021 challenging a new state law that only permits public school districts to implement a mask protocol if the district is under a governor declared emergency and it consults the local health department. The parents allege that the law is unconstitutional because it treats public school districts differently than non-public school districts without a compelling government interest and that it violates the right to free education in a safe environment. In September 2021, an Oklahoma court temporarily blocked part of the law allowing school districts to implement mask protocols without a governor emergency declaration, but requires any school mask policy to include medical or personal belief exemptions.
An Arizona court declared its new law prohibiting local and county governments from enacting face mask requirements for private businesses or schools unconstitutional in September 2021 based on a state constitutional requirement that legislation only address a single-subject. The single-subject rule, the court noted, is "designed to prevent the evils of omnibus bills, surreptitious, and 'hodgepodge' legislation' [and] intended to prevent 'logrolling,' the practice of lumping multiple subjects into one bill so that a vote to support a favored measure is a vote to support all measures." Because the enacted legislation, Arizona SB1819, covered subjects ranging from the mask requirement prohibition to the definition of a "newspaper" to dog-race permitting, the court found it void and unenforceable.
ASTHO will continue to monitor the legal challenges to state prohibitions to school mask protocols and provide relevant updates to its members as they become available.