Courts Consider Whether State Vaccination Laws Must Include a Religious Exemption
June 08, 2022 | Maggie Davis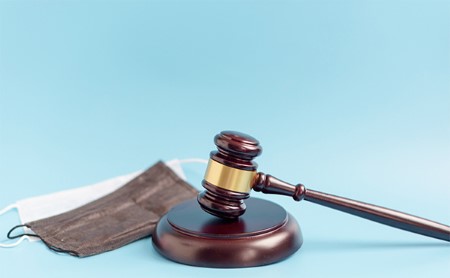 During the 2022 state legislative sessions, at least 20 states considered bills that would require a religious exemption to a vaccine requirement. Two states—Nebraska and Tennessee—enacted laws requiring or facilitating a religious exemption to a vaccine requirement. Nebraska LB 906 requires the Department of Health to develop a form for employees to claim an exemption to a COVID-19 vaccine requirement based on sincerely held religious beliefs. Tennessee SB 1823 legislates that any employer that requires a COVID-19 vaccine and has at least one employee residing in the state must grant a religious exemption to any staff member who attests in writing that they have a sincerely held religious belief that prevents them from being vaccinated.
While state legislatures continue considering vaccine protocols for COVID-19, HPV, and other diseases—along with what types of exemptions should be given—courts are reconsidering what type of vaccine requirements are constitutional.
Evolution of State Vaccine Requirement Laws
States have enacted laws establishing vaccine requirements to prevent the spread of disease for centuries, starting with an 1809 Massachusetts law for all people over age 21 to be vaccinated against smallpox. In the early 1900s, the Supreme Court of the United States (SCOTUS) affirmed the constitutionality of state vaccine requirements in the cases Jacobson v. Massachusetts, upholding that all adults must be vaccinated against smallpox, and Zucht v. King, upholding a law requiring certain vaccinations as a condition of school enrollment. By the 1980s, all 50 states and Washington, D.C., adopted laws requiring certain vaccinations as a condition of school enrollment.
For more than three decades, all but two states (West Virginia and Mississippi) had religious exemptions to their school vaccination requirements. Following the 2015 Disneyland measles outbreak, California repealed its non-medical vaccine exemptions for school enrollment, resulting in an increase of kindergartners entering school up-to-date with their vaccinations. Similarly, New York repealed its religious exemption in 2019 following a measles outbreak linked to "low vaccination rates in ultra-Orthodox communities." Maine repealed its religious exemption in 2019, a decision that was affirmed by voters in a 2020 ballot referendum. In 2021, Connecticut became the sixth state to forego a religious exemption for school vaccinations.
Beyond vaccines necessary for school enrollment, several states have laws requiring certain healthcare workers or first responders be immunized against influenza, varicella, measles, and other diseases. In response to the COVID-19 pandemic, at least 15 states issued orders for healthcare workers to be immunized against COVID-19.
New York Childhood Vaccination Law Survives Court Challenge
In July 2019, a group of New York parents that had previously been granted a religious exemption to the state's childhood vaccine requirements filed a lawsuit alleging that repealing the exemption was unconstitutional. A state judge denied the parents' initial request to block the repeal of the religious exemption in August 2019, and granted the state's motion to dismiss the lawsuit in December 2019 holding that the New York law did not target religious believers and was constitutional. The parents appealed the court's decision in March 2021. The appellate court again denied the parents' request, affirming that the New York law requiring children two months to 18 years old have certain vaccines in order to enroll in childcare centers or schools was constitutional.
In January 2022, the parents appealed the state court decision to SCOTUS, asking the court to determine whether the First Amendment requires a religious exemption for enrollment in childcare centers or school. In their brief, they relied on the 2021 ruling Fulton v. City of Philadelphia, arguing a law that allows secular conduct but prohibits religious conduct violates the First Amendment right to freely exercise religion. On May 23, 2022, SCOTUS declined to hear the parents' case, allowing the New York school vaccination requirement with only medical exemptions to remain in place.
Pending Court Challenge to Administrative Rule Requiring COVID-19 Vaccine for Healthcare Workers
During the COVID-19 pandemic, there were dozens of lawsuits filed challenging COVID-19 vaccine requirements. While these suits have been largely unsuccessful, those asserting that leaving out a religious exemption violates the First Amendment have had some success in the courts. In Dr. A., et al. v. Hochul, et al, a group of healthcare workers challenged the New York State Department of Health rule that hospital and nursing home employees be vaccinated against COVID-19 without a religious exemption. A federal court temporarily blocked the rule from going into effect in September 2021. A key argument in the case arose from the evolution of New York's COVID-19 vaccine requirement for healthcare workers. The first healthcare worker vaccine rule issued by the New York State Department of Health included a religious exemption. Several days later, the Department of Health issued an amended rule that removed the religious exemption.
The New York State Department of Health appealed the court decision requiring a religious exemption to the healthcare worker vaccine rule, with a panel of the U.S. Court of Appeals for the Second Circuit finding that the New York rule was constitutional and allowed it to go into effect in November 2021 without the religious exemption. In response, the healthcare workers appealed to SCOTUS, asking the court to determine whether the orders in Tandon v. Newsom and Roman Catholic Diocese of Brooklyn v. Cuomo—which struck down public health measures limiting gatherings for in-person religious services that treated comparable secular activity favorably as compared to the exercise of religion—should extend to the amended New York rule requiring healthcare workers receive the COVID-19 vaccine without a religious exemption. As of June 6, 2022, SCOTUS is still considering whether to hear the healthcare workers' case.
In February 2022, SCOTUS declined to hear a challenge to a Maine requirement that healthcare employees receive a COVID-19 vaccine without a religious exemption. In that case, a federal judge denied the Maine healthcare workers' request to block the requirement. The court reasoned that the Maine Center for Disease Control amended its existing healthcare worker vaccine requirements in April 2021 to remove the religious exemption, in accordance with the 2019 statute change and 2020 voter referendum. By aligning the existing requirement with the other law and voter referendum, the court reasoned that adding COVID-19 to the requirement was a "neutral and generally applicable" change to law and permissible under the First Amendment.
ASTHO will continue to monitor this important public health issue.
Special thanks to Andy Baker-White, senior director of state health policy, for contributing to this Health Policy Update.