Changes to School Nutrition Programs Helping Curb Pandemic-Related Impacts
March 28, 2022 | Shannon Vance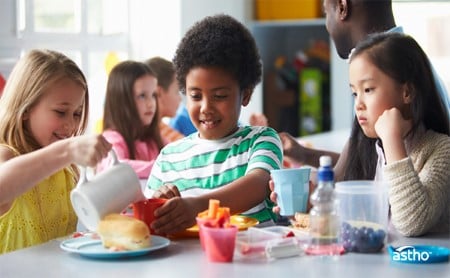 Since its inception in 1946, the National School Lunch Program (NSLP) has provided millions of children with "nutritionally balanced, low-cost or no-cost lunches," each school day. The NSLP is a federally assisted meal program that operates in public and nonprofit educational institutions and residential childcare centers and is administered by the Food and Nutrition Service of the United States Department of Agriculture (USDA). State agencies administer NSLP and other related school nutrition programs; they operate through agreements with school food authorities (SFAs). Participating school districts receive cash subsidies and USDA foods for each reimbursable meal they service and in exchange those schools must serve lunches that meet Federal meal pattern requirements and offer the lunches at a free or reduced price to eligible children.
Children perform better in school if they are well-fed. Programs like NSLP are vitally important for ensuring low-income students are set up for success in the classroom. For many children, the food received as part of a school breakfast and lunch make up about half of their dietary intake each school day. Low-income students who eat both school breakfast and lunch have significantly better overall diet quality than low-income students who do not eat school meals. School lunches often provide a more appropriate number of calories, fat, saturated fat, and sugar, and more protein, fiber, vitamin A, and calcium.
Children without consistent access to nutritious meals are at a higher risk for diet-related chronic disease, including obesity. It's estimated that receiving a school lunch reduces obesity rates among individuals by at least 17 percent. Additionally, participation in school meals is associated with a significantly lower body mass index among young, low-income children. USDA nutritional standards have a positive impact on student food selection and consumption, especially for fruits and vegetables. Students participating in school meals are less likely to have nutrient inadequacies and are more likely to consume fruits, vegetables, and milk at breakfast and lunch.
COVID-19 Has Negatively Impacted School Nutrition Programs
Unfortunately, SNPs and SNP recipients weren't spared the impact of COVID-19. Nearly 14 million children received breakfast and 19.8 million children received lunch on an average day in the 2020-2021 school year, which is a decrease of 692,000 children for breakfast (4.7%) and 8.8 million children for lunch (30.7%) since the 2018-2019 school year, the last full school year before the pandemic. These trends appear in every state and Washington, D.C.
As part of the Families First Coronavirus Response Act in 2020 and extended as part of the Continuing Appropriations Act 2021, USDA released a nationwide waiver to allow the National School Lunch Program Seamless Summer Option (SSO) to operate when school is open during the regular school year. SSO makes it easier for schools to feed children during the traditional summer vacation periods by continuing the same meal service rules and claiming procedures used during the regular school year.
This waiver allowed all students to continue to receive meals during the 2021-2022 school year free of charge, regardless of income, and it provided a higher reimbursement rate for the school districts. A few months later, in September 2021, USDA released a second nationwide waiver to allow for service of meals at school sites even while in person education may not be taking place. This supported school districts in continuing to provide nutritious meals to students while also minimizing exposure to COVID-19.
Updates for School Nutritional Standards are Forthcoming
While concerns about supply chain disruptions and the future of expanded funds continue to arise for these nutrition programs, USDA released updated school nutritional standards in February 2022that serve "as a bridge to transition from where we are now to where we're going" to help schools recover from any uncertainty caused by the pandemic. By issuing transitional rules, USDA is giving school districts time to recover from changes that were made during the pandemic. The new standards will take effect on July 1 and apply to the 2022-2023 and 2023-2024 school years for milk, whole grains, and sodium. The changes are as follows:
Milk: Schools and childcare providers may offer flavored, low-fat milk (1%) in addition to unflavored, low-fat milk and flavored or unflavored nonfat milk.
Sodium: The weekly sodium limit for school lunch and breakfast will remain at the current level for SY2022-2023. For school lunch, the limit will decrease marginally (10%) in SY2023-2024.
Whole Grains: At least 80% of grains served in school lunch and breakfast per week must be whole grain rich (at least 50% whole grain).
USDA is developing longer-term nutritional standards—a proposed rule is planned for release and stakeholder comment this fall. The final rule will be issued in time to prepare for the 2024-2025 school year. Head Start programs, outside-school-hours care centers and other day care facilities follow the nutritional standards from the Child and Adult Care Food Program and therefore are not affected by these changes.
Outlook for School Nutrition Funds
The emergency funds provided a much-needed support to nutrition programs. In a recent USDA survey of school nutrition, about 92 percent of SFAs reported experiencing challenges due to supply chain disruptions. The most frequently cited challenges include limited product availability, orders arriving with missing or substituted items, and labor shortages. SFAs reported increased staff stress or workload, higher program costs and difficulty maintaining compliance with the meal patterns because of supply chain disruptions. SFAs expect these and other issues to last into SY 2022-2023.
The waiver that allowed for the extension of the SSO is set to expire on June 30, 2022. As of March 15, 2022, funding for this waiver is not included in the omnibus spending bill that President Joe Biden signed. Given ongoing supply chain issues and staffing shortages, many national-level organizations that support these programs are concerned about what this means for school districts who relied on these waivers. As with many programs that were buoyed through this pandemic with emergency funds, it is critical to plan for and address the funding cliff ahead.
State and Territorial Health Agencies (S/THAs) Are Crucial Partners
S/THAs have a role in supporting these nutritional programs. The Whole School, Whole Community, Whole Child (WSCC)—CDC's framework for addressing health, including nutrition, in schools—focuses on aligning the goals of the health and education sectors to best serve the children in their community. Of the program's 10 model components, S/THAs can support health education, health services, and community involvement. For example, public health educators can work closely with school officials to bolster their nutrition education curricula or set up joint-use agreements for shared spaces that encourage good nutrition such as a community kitchen.
States can also explore additional expansion strategies to these school nutrition programs such as Breakfast After the Bell programs, enacting state breakfast and lunch legislation to supplement the national programs, and increasing stakeholder engagement. Finding ways to support and possibly supplement the recovery of school nutrition programs is crucial for the health and wellbeing of students across the nation.