Building Bridges to Better Health the ASTHO Way
April 08, 2021 | Michael Fraser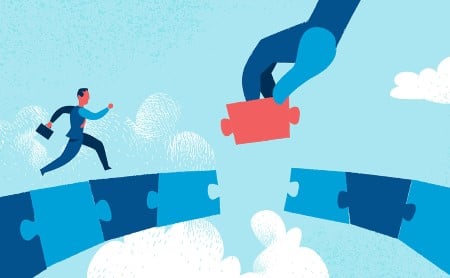 "Building Bridges to Better Health," the theme for the 2021 National Public Health Week, resonates with me for two main reasons. First, ASTHO is committed to building and maintaining the partnerships and connections needed to achieve our shared vision of state and territorial health agencies advancing health equity and optimal health for all. These relationships are bridges that connect us to others and to work that amplifies and complements our own. Second, we are deeply rooted in our mission to support, equip, and advocate for state and territorial health officials in their work of bettering health by providing technical assistance and capacity building in areas that advance our collective health and well-being.
National associations like ours are natural bridge builders. During COVID-19, we created numerous connection points between local, state, and federal leaders to respond to the evolving pandemic. Tactically, we amped up our email newsletters to daily briefs and doubled our weekly all-state and territorial health officials conference calls. These touchpoints with states—and our daily communication on COVID-19—are examples of how we built bridges between state leaders, and between states and their partners looking to help, share information, or learn more. Most recently, we have built bridges with the Biden Administration who have been looking to hear from state health officials as they develop their COVID-19 response and recovery efforts. Practically every week we are meeting new people and making new connections with interested groups and individuals who want to know more about ASTHO and the work of our members.
Building bridges to better health also means helping folks achieve better health, not just making connections between two points. ASTHO does not necessarily make a community's health better—that is the work of health departments and their partners—but we do promote and share programs and policies that lead to better health at the state and local levels. Our numerous program area investments help state and territorial health officials do better, so they can better the health of their communities. Our policy statements and national advocacy help create the conditions for better health. Our newest policy statement, "Achieving Optimal Health for All by Eliminating Structural Racism," calls on state and territorial health leaders to better health by acknowledging structural racism as a cause of health disparities and supporting jurisdiction-wide efforts to eliminate structural racism and advance health equity. This is one of the clearest and most compelling examples of our bridge building work, and when embraced and implemented by states and territories, will have lasting impact on creating better health for years to come.
Over the last four years there was a lot of talking about building walls, and not much talk about bridges. This National Public Health Week's theme is a chance to refocus on the way we at ASTHO span the country and connect across it. It is also a chance to focus on how we help states and territories learn and share those things that better the health of their communities. I look forward to working with you and our ASTHO team to build these bridges to better health together.