ASTHO's Fall 2023 Capitol Hill Recap
November 20, 2023 | Catherine Jones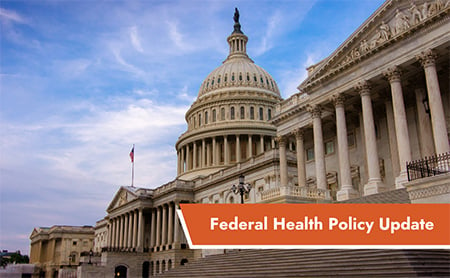 Uncertainty shrouded the FY2024 federal government appropriations process. ASTHO maintained a watch-and-wait approach as a continuing resolution (CR) was enacted on September 30, and the House Speaker seat was subsequently vacated days later. On November 16, a second potential shutdown was averted with a two-tiered CR that included different lengths of stopgap funding for each of the individual appropriations bills. This "two-step" approach extends current funding for discretionary programs in the Agriculture Appropriation bill (WIC and FDA) to January 19, 2024. This also covers mandatory funding for teaching centers that operate graduate medical education programs, community health centers, the National Health Service Corps, and special diabetes programs, as well as authorizations for the reassignment of state and local personnel included in the Pandemic and All Hazards Preparedness Act (PAHPA). Funding for HHS discretionary programs (NIH, CDC, HRSA, SAMHSA), in addition to EPA and the Compacts of Free Association (COFA) with the Federated States of Micronesia, the Republic of the Marshall Islands, and the Republic of Palau, are extended at current levels to February 2, 2024.
Navigating a(nother) Potential Government Shutdown
If you feel like you're on a government appropriations roller coaster, you're not alone. Three hours before the midnight deadline on October 1, the Continuing Appropriations Act, 2024, and Other Extensions Act (HR 5860) was passed and signed by President Biden, extending government funding for 45 days until November 17. Shortly thereafter, House Speaker Kevin McCarthy (R-CA) lost his leadership position under a motion to vacate initiated by Matt Gaetz (R-FL). Only two such motions—one in 1910 and another in 2015—have ever been brought; this was the first time a motion to vacate was successful.
The Speaker's seat remained empty for 22 days, with Patrick McHenry (R-NC) acting as speaker pro tempore, until Mike Johnson (R-LA) was elected on October 25. On the same day, the White House requested $56 billion in emergency supplemental non-defense funding for critical programs: $23.5 billion for Disaster Response and Other Needs, $16 billion for Childcare, $1.6 billion for Energy Assistance, and $1.55 billion for countering fentanyl.
On November 15, the Senate passed the Further Continuing Appropriations and Other Extension Act, 2024 (HR 6363), which was signed into law by President Biden. The bill did not contain the emergency supplemental funding requested by the White House. In addition to the discretionary programs in the Agriculture Appropriation bill mentioned above, the January 19 extension funds transportation, housing, urban development (THUD), energy, and water programs. It also includes a one-year extension of the 2018 Farm Bill (which expired Sep 30, 2023), as well as some pandemic preparedness authorities, including the Biomedical Advanced Research and Development Authority (BARDA). The February 2 extension funds HHS discretionary programs, including CDC, SAMHSA, FDA, and COFA. In early 2024, the two chambers will still need to pass each of the final 12 budgets individually or bundle them together. ASTHO will continue to work with our partners and coalitions to advocate for priorities and programs within federal public health agencies.
ASTHO Responds to Inquiries from Congress
ASTHO is always eager to share our collective knowledge and evidence-based best practices in response to requests for information (RFIs) from Congress. We responded to two such requests in October.
The first was from the House Ways and Means Committee and focused on improving care in rural and underserved areas. The second came from Senator Bill Cassidy (R-LA), Ranking Member of the Senate Committee on Health, Education, Labor, and Pensions (HELP), who sought feedback on reforming and modernizing CDC.
Chairman Jason Smith (R-MO) and Ranking Member Richard Neal (D-MA) of the Ways and Means Committee sent out an RFI on September 7 for improving care in rural and underserved areas. Our response focused on the pain points for U.S. territories and freely associated states regarding geographic payment differences, sustainable provider and facility financing, health workforce shortages, and innovative healthcare models and technology. Many of the islands and state-based communities lack access to high-quality healthcare, mental health care, substance use and misuse treatment, dental care, and veteran care. Costly and long travel distances (often to the U.S. mainland) to reach proper care should be mitigated by eliminating the Medicaid cap for territories and facilitating access to care for veterans by expanding VA facilities to the territories. Also, expanding the HRSA Rural Health Program and HRSA 340b Drug Pricing programs will ease over-budget Medicaid expenses and will offer on-island care. Investing in the healthcare workforce and telehealth will mitigate severe staff shortages and improve the reach and depth of healthcare.
As a side note, in 2019, ASTHO responded to a similar RFI from the same committee sharing information on mainland and U.S. territorial rural healthcare issues.
Senator Bill Cassidy (R-LA), Ranking Member of the Senate Committee on HELP sent ASTHO—and many of our partners—an RFI on September 26, which included questions on reforms/modernizations at CDC. ASTHO maintains that a national-level comprehensive nonpartisan review of federal and state COVID response should be implemented. ASTHO's responses focused on the need to maintain vital funding for CDC modernization efforts to ensure our nation's response to readiness, recovery, and future preparedness, including continued Congressional funding for the Data Modernization Initiative (DMI) to ensure uninterrupted public health data sharing. Funding supports CDC's work on forecasting outbreak analytics, strengthening and modernizing public health governance and policy structures, critical epidemiological work, and building a robust inter-agency response team for future events. Turning the lessons we collectively learned from the COVID-19 pandemic into actionable solutions is a race against the clock that requires ongoing Congressional funding and support on multiple levels.
While a federal government shutdown has been averted twice this fall, in many ways the can has simply been kicked down the road. The difficult work of getting the House, Senate, and President to agree to funding provisions in the 12 pending appropriations bills remains. ASTHO will continue to monitor developments and will share and interpret information on events as they impact public health systems, policies, and programs.