ASTHO Reports from Palau Equity Summit
March 31, 2023 | Karl Ensign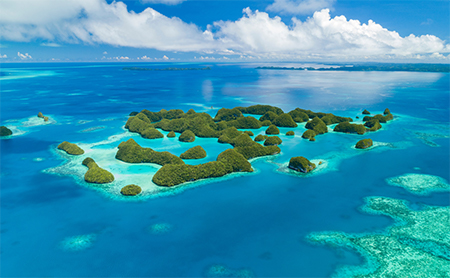 Last month, ASTHO staff and I had the pleasure of traveling to Koror, Palau for a four-day health equity summit—the island's first national health summit in five years! The summit was convened by the Ministry of Health and Human Services (MoHHS) and presented a unique opportunity to bring members from across the Palauan community to the public health table.
From the summit's inception, Palau opened the convenings to the public and partners with an ad in the local newspaper, and eventually accrued over 500 online registrants! A youth forum was organized immediately preceding the summit which emphasized the work that was being undertaken for future generations, and a section of the summit auditorium was reserved for student attendees.
Over the course of the meeting, ASTHO held workshops to identify, select, and prioritize measures for Palau's health equity work. Palau invited community partners to the workshop to discuss the indicators and come to a shared agreement on the best measures for advancing health equity. We also had the pleasure of presenting a plenary session on health equity frameworks and shared the final draft of ASTHO's Pacific Island Health Equity Framework, which was received extremely well.
It was a packed week, as we discussed strategies for improving healthcare services and systems, including rural health, cancer screenings, and dental care. We considered how we could better use data in the service of health equity and to satisfy the social determinants of health. Environmental health, maternal and infant mortality, lead poisoning, chewing betel nut, COVID-19, disease prevention—it would do a disservice to the scope of the summit to attempt to name all that we discussed.
However, as always, our biggest goal in traveling to the Pacific was to listen and be present in a community that is too seldom heard. Here, I would like to share some of what we learned.
Palau's Leaders Break New Ground
Minister Gaafar Uherbelau and His Excellency President Surangel Whipps Jr. kicked off the summit with opening remarks delivered mostly in Palauan. I was also excited to see that Minister Uherbelau outlined his vision for the island's health based on a logic model that ASTHO helped develop!
The Minister also introduced the ministry's newest staff, a cohort of community health workers who will be essential in filling the islands' longstanding workforce gap. The community health workers attended the entire summit. President Whipps Jr. followed, speaking about the importance of modernizing healthcare, creating more sustainable hospital funding, and launching a new healthcare professional training program that will be breaking ground soon.
Leaders also emphasized that population health does not begin or end in the public health sector. Dr. Stevenson J. Kuartei—Chairman of the Senate Health and Social Welfare Committee—challenged all of us to work together to improve both morbidity and mortality, rather than assuming it is just in the health sector's purview. As he said so succinctly, "Wellness as a national investment, and a public good."
A Whole-of-Community Experience
We often talk in public health about the importance "cross-sector collaboration," and it is always a small victory when we can bring outside partners to the public health table. However, what we experienced in Palau was something else entirely—perhaps more akin to a family.
In ASTHO's first workshop of the summit, which focused on setting the stage for health equity measures and why they're important, active participants included physicians, nurses, a dietician, and a state sanitation officer. Meanwhile, a panel on Palau's COVID-19 response featured not only public health experts, but panelists from the Bureau of Aviation, Ministry of Justice, Ministry of Finance, National Emergency Management Office, and the Red Cross.
However, this diversity extended beyond a wealth of professional expertise, as MoHHS did a wonderful job elevating voices from a range of identities and cultural backgrounds. We heard firsthand from people living with disabilities, women, and older adults who had grown up living in and around Palau's public health system. We also had the chance to speak with members of the Filipino community, who make up a significant part of Palau's population, and whose experiences provide crucial context for how we must think about health equity on the island.
One of the most striking stories shared from the week came from Rondy Ronny, a popular radio DJ and a member of the LGBTQIA+ community, who highlighted the importance of the right to access appropriate medical treatment, be identified correctly, and know who you are. This was especially important as Ronny noted it was among the first times that an LGBTQIA+ perspective was included in a Palauan public forum.
Ronny also spoke to his experience of feeling vulnerable as LGBTQIA+ people in Palau have been marginalized and forgotten for much of the island's history. In fact, it was only as recently as November 2020 that the island community set up an organization to educate and advocate for equality and inclusivity for the LGBTQIA+ community.
As his Excellency President Whipps Jr. said in his opening remarks, "It takes family to be in good health." It was clear over the course of the summit that this idea is being taken seriously, as MoHHS continues to work hard to ensure voices from across the community are elevated and heard.
Palau Takes Back Its Story
One key distinction between the U.S. Affiliated Pacific Islands and the continental U.S. states is the role that the islands' indigenous identity plays in their public health system. Centuries of colonialism mean that the island jurisdictions have deep-rooted inequalities baked into many of the economic, social, and healthcare systems that were imposed on them.
However, in his presentation, James Arriola, behavioral health consultant from Brabu Behavioral Health Services, shared that while colonialism is a part of the Pacific islanders' history, it doesn't define them. Instead, through a long and challenging history, Palauans have been guided by their values faith, culture, family, and respect.
I was struck by how difficult it can be to talk earnestly about resilience without also romanticizing the traumatic pasts that often necessitate such resilience. Arriola deftly walked a tightrope of historical nuance and empathy, leaving me with a deeper appreciation for how the Palauan people are led by their values and not colonialism. As Arriola wrapped up his session, he left us with a lingering question: "How do we define ourselves?" Indeed, this question seemed to be the center of many of the week's dialogues.
A Family from Afar
As with any conference, the conversations and relationships we formed during our time in Palau only represent the first step in a long journey. It is one thing to be inspired. It is quite another thing to bring this same fervor for health equity into the day-to-day trenches of public health over 8,500 miles away from the island in ASTHO's Arlington, Virginia office.
Still, as my body and mind uncloud from the jetlag and I settle back into the norms of my native time zone, I am revigorated by all the possibilities that are unfolding in the Pacific. I am excited about the new relationships we made and the existing ones we strengthened. I look forward to continuing ASTHO's work alongside our family from afar and supporting Minister Uherbelau's vision.
ASTHO has eight members from the territories and freely associated states, jurisdictions collectively referred to as island areas. Sharing Island Stories on Health Equity is a series of blog posts based on conversations held at the Atlantic and Pacific COVID-19 Health Equity Action Institutes in spring of 2022. Although implicit in our work with jurisdictions, these convenings were the first time ASTHO's island area members were centered in a conversation about health equity, marking a historic moment for ASTHO's relationship with its island members.
This product was supported by funds made available from the Centers for Disease Control and Prevention, National Center for STLT Public Health Infrastructure and Workforce, through cooperative agreement OT18-1802, Strengthening Public Health Systems and Services Through National Partnerships to Improve and Protect the Nation's Health award # 6 NU38OT000317-04-01 CFDA 93.421. Its contents are solely the responsibility of ASTHO and do not necessarily represent the official views of the U.S. Department of Health and Human Services/Centers for Disease Control and Prevention.