ASTHO's Public Health Resolutions for 2021
January 13, 2021 | Alannah Kittle, Kristi Meadows, Cara Person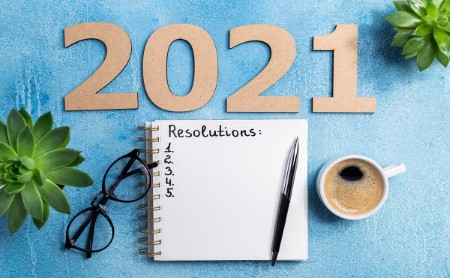 As we look optimistically at this new year and reflect on 2020, the changes to the public health landscape have been extraordinary, with health agencies adapting at a remarkable pace. But as state and territorial health agencies (S/THAs) rose to meet the demands of the COVID-19 pandemic, they also continued to prioritize the ongoing public health needs of their populations. Identifying and tracking these trends over time provides ASTHO and the public health field with the latest intelligence to inform their support of S/THAs.
Every year, ASTHO performs an annual environmental scan to identify these policy and programmatic priorities. The most recent scan occurred from June 2019 to May 2020. Through ongoing collection of data from a variety of sources—including state and territorial health improvement plans and strategic plans, documentation of discussion topics from ASTHO's weekly calls with state and territorial health officials (S/THOs), requests for technical assistance that ASTHO receives from S/THOs and agency staff, and subject matter expert input on trends and issues emerging in the field—ASTHO accumulated a catalogue of issues facing S/THAs and identified those most commonly experienced among jurisdictions over the year.
This scan covered priorities preceded by the COVID-19 pandemic that health agencies continue to confront, and in many cases, were magnified by the pandemic. Between 2019 and 2020, ASTHO found that S/THAs were contending with many persistent challenges identified in the previous year's environmental scan. Supporting S/THAs as they address these priorities will be ASTHO's "2021 resolutions" as we enter a new year. Read more about these priorities below.
Newly-Emerged Priorities
Framing racism as a public health issue and engaging in anti-racism and discrimination work internally and externally to increase equity.
Preventing suicide by training individuals to recognize and respond to warning signs or a crisis, establishing crisis hotlines, and expanding data collection to identify high-risk populations—all increasingly important because of the mental health toll of the pandemic.
Expanding violence prevention and firearm safety efforts by providing data and statistics, conducting health promotion and education, and framing violence as a public health issue.
Continued Priorities With an Adjusted Focus From Previous Years
Addressing rural hospital sustainability, which has become increasingly strained during the pandemic. Key considerations to aid struggling rural hospitals include revising payment and funding mechanisms, reducing regulatory barriers to access to care, and expanding the healthcare workforce are all key considerations in aid struggling rural hospitals.
Educating the public on the risk of e-cigarette or vaping product use-associated lung injury (EVALI) and continuing efforts to prevent youth vaping.
Preventing opioid overdose through prescription drug monitoring programs (PDMP) and increased state-to-state data sharing.
Continued Priorities From Previous Years
Ending the HIV/AIDS epidemic by integrating testing requirements at harm reduction sites and addressing the rising rates of STIs, especially syphilis and congenital syphilis, that have been attributed to disruptions in care during the pandemic.
Addressing vaccine hesitancy by using evidence-informed strategies to share vaccine safety and efficacy—along with planning and executing a successful COVID-19 vaccine program.
Ensuring water quality by conducting environmental investigations and seeking additional federal regulations for per- and polyfluoroalkyl substances.
Increasing access to telehealth, utilized frequently during the pandemic, through policy development, training, and technology infrastructure improvements.
Priorities in the Insular Areas
In the U.S. territories and Freely Associated States, also known as the insular areas, some distinct priorities have emerged because of their unique health circumstances and agency structure. This year, ASTHO found that the top emerging priorities across these jurisdictions included:
Preventing and treating chronic diseases by:
Addressing cancer, respiratory diseases, heart disease, stroke, and diabetes.
Decreasing major risk factors for disease.
Improving nutrition and physical activity.
Reducing the prevalence and spread of infectious diseases by:
Preventing and controlling Zika, Dengue, and other tropical diseases.
Addressing tuberculosis (TB), including multi-drug resistant TB.
Decreasing vaccine preventable diseases.
Treating and preventing sexually transmitted diseases including HIV.
Eradicating leprosy.
Meeting the needs of specialized populations, including efforts focused on:
Maternal, infant, and child health.
Veterans and older adults.
Providing mental and behavioral health and substance abuse prevention and treatment.
Preparation for responding to severe weather events, including:
Strengthening response and recovery networks.
Planning for and lessening the impact of climate change.
Administrative Challenges
On top of these issues, S/THAs simultaneously work to ensure the highest levels of administrative functioning. During our scan, S/THAs were dealing with:
Erosion of public health confidence and authority.
Navigating public health through a political lens.
Data modernization and interoperability.
Workforce development and employee resilience.
Policy development and support.
Financing and business operations.
ASTHO's goal is to use these priorities to direct programming and enact policies that prevent disease and address chronic health issues and emerging challenges in S/THAs. ASTHO resolves to rely on these varied priorities to ensure its work is timely, relevant, and inclusive. Ultimately, these priorities will inform ASTHO's capacity building and legislative strategies for the coming year so that we can serve as effective partners to S/THAs promoting health in their communities.