Advocating for Success: ASTHO's Federal Legislative Priorities
July 11, 2022 | Jeffrey Ekoma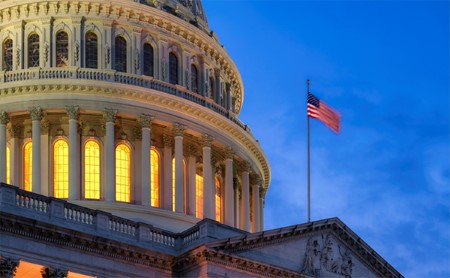 Each year, ASTHO's Board of Directors approves our federal legislative agenda, which guides ASTHO's federal advocacy work and sets priorities for the government affairs team. Our work in advocacy is measured by how well and impactful we are in reaching those priorities, and our success in the last couple of years has had a profound impact on public health and has been supportive of the transformative work of our members.
Our legislative agenda is separated into three tiers:
Tier one priorities represent items for which our members want us to play a lead advocacy role. These include supporting innovative programs, strategies, and funding to provide public health departments with long-term and sustained investments to address critical issues like public health infrastructure, data modernization, and health equity.
Tier two priorities are the issues that our members have asked us to actively work with key partners to advance. These include items such as preventing firearm injury and death, maternal morbidity/mortality, environmental health, tobacco control, and addressing the opioid epidemic.
Tier three priorities represent issues that we monitor including healthy aging initiatives, the Special Supplemental Nutrition Program for Women, Infants, and Children, and research that addresses long COVID-19.
In addition to our legislative agenda, the government affairs team develops a public health appropriations book that compiles the federal funding priorities of ASTHO, along with those of our affiliate organizations. This book assisted our advocacy in fiscal year appropriations, as well as served as a resource for our members during our annual hill day.
Similar to last year, our members participated in a virtual hill day in February where they emphasized several key messages for members of Congress and their staff including gratitude for the support they have received throughout the response to the COVID-19 pandemic. Our members also highlighted the importance of finalizing FY22 appropriations, beginning work on FY23, and resources that increase support for public health infrastructure and capacity that continues to remain disease-agnostic, flexible, and sustainable.
House Committee on Appropriations Approval of FY23 L-HHS Appropriations Bill
The synergy of our member's advocacy—not only during our annual hill day but throughout the year—coupled with that of the government affairs team in highlighting the importance of adequately funding public health and the work of governmental public health agencies culminated in a significant first step in the annual appropriations process with the recent release of the House Committee on Appropriations approved the FY23 LHHS-ED appropriations bill that included proposed funding level increases for many priority items of our members.
Specifically, public health infrastructure, data modernization, social determinants of health programs at the CDC, and public health preparedness all received significant proposed increases with the largest increase of $550 million going towards public health infrastructure. The bill's language also highlighted the committee's interest in rebalancing the CDC's budget between disease-specific and fundamental activities that support the public health ecosystem. It's also important to note the impact of these increases in achieving ASTHO's 2022-2024 strategic priorities—health and racial equity, workforce development, sustainable infrastructure improvements, data modernization and interoperability, and evidence-based and promising public health practices.
While this bill is far from a done deal—and I am not sure that its promise will become a reality—it is an important milestone in any advocacy effort, setting markers for negotiations with the Senate.
As someone who has had the privilege of working in advocacy for a decade, legislative victories are few and far between. In my experience, appropriators must sort through hundreds of funding requests and make difficult decisions to prioritize key programs. It is laudable that ASTHO, our members, affiliates, and partners have been influential and impactful in not only raising the needs of governmental public health agencies but has had a high rate of success in achieving its legislative priorities.
At every phase of the pandemic, our members turned to us to advocate on their behalf in securing resources to support their response to the pandemic and we rose to the occasion. Through all the recent advocacy accomplishments, what remains constant is the impact that our members have in improving the health and well-being of the communities they serve. The government affairs team will continue to remain steadfast in uplifting the needs and concerns of our members while working to address priorities in our legislative agenda and advocacy-related goals in our strategic plan.