Advocacy Over Zoom: A New Frontier for ASTHO's Hill Day
February 24, 2021 | Carolyn Mullen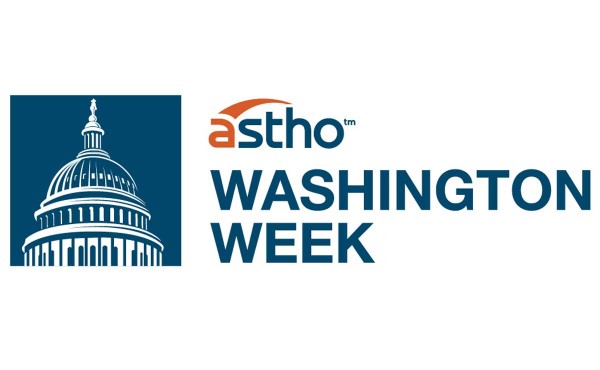 Every government affairs professional in Washington, D.C. looks forward to the one day each year when their members and stakeholders fly-in to conduct in-person meetings with members of Congress and advocate for top priorities. These days on Capitol Hill are marked by lines snaking outside of Congressional offices rivaling the wait times for Disney World theme park rides; lugging leave behind packets, talking points, and sometimes suitcases; and blistered feet from walking miles to and from office to office. Despite all of this, it is time well spent—these advocates get to build an enduring relationship with their federal delegation.
When the global pandemic struck it completely changed the way hill days are conducted—moving from in-person meetings to virtual platforms, potentially altering this tradition forever. Acknowledging that Zoom meetings are the new frontier for advocacy, the ASTHO team sprung into action, researching best practices, talking to other non-profit organizations and Congressional staff. After an abundance of research and thoughtfulness, we decided to completely flip the script and chart our own path for ASTHO's Hill Day this year. It is our hope this will prove to be a new model for advocacy and perhaps utilizing it for years to come.
How is ASTHO conducting a virtual Hill Day?
In the past, state and territorial health officials would conduct one-on-one meetings with their members of Congress, resulting in approximately 70 in-person meetings, but it would require an entire day commitment. Given that our members are extremely busy responding to the COVID-19 pandemic, we are connecting them with members of Congress via Zoom to a mega room and then break out rooms. For the first 10 minutes ASTHO's president Nirav Shah and our CEO Mike Fraser will provide an introduction of ASTHO, our members, and our advocacy priorities for the year. Following the introduction, members of Congress, their staff, and our members will then be sorted into state delegation Zoom rooms. This approach maximizes our members reach and minimizes the amount of time necessary to conduct meetings. As a result of these efforts, our members will be meeting with 150 members of Congress.
Due to the time zone differences and unique needs of our territorial members, their meetings will occur in the evening with committee staff who are charged with writing legislation to address territorial member priorities.
What are the key messages for the Hill Day?
First and foremost, we will be thanking Congress for their partnership during the pandemic and for providing the resources necessary for public health jurisdictions. Public health officials will focus on discussing the ongoing needs to address COVID-19 and annual appropriations funding for other public health priorities. However, our central request is for Congress and the Biden administration to support innovative programs, strategies, and funding to provide a long-term investment in federal, state, territorial, and local public health to address the workforce shortfalls and bolster public health infrastructure. We know what works to prevent people from dying. We know what works to protect and promote health. We also know that public health has been underfunded and undervalued for decades. For too long, public health has been funded in a feast or famine cycle. When an emergency strikes, the funding spikes. The funding is narrow, specific, and time limited. After the funding expires programs are shuttered and staff furloughed until the next emergency. Ideally, we need to break this cycle and be more forward thinking about a public health system that can better address not only future infectious disease outbreaks, but ongoing public health issues.
For our territorial members, their requests to Congressional committee staff will be hyper focused on two priorities: urging Congress to support legislation to develop a long-term solution to Medicaid financing in the U.S. territories and renewing the Compacts of Free Association for the Freely Associated States.
How should ASTHO members prepare for these meetings?
Prior to the March 3 Hill Day, we encourage health officials to review with their team how much federal COVID-19 emergency supplemental funding they received, the plan to spend those resources, and any gaps they need Congress to address in the pandemic response. Our members should also be prepared to discuss the COVID-19 vaccination rollout, mitigation strategies, and any other public health updates. While we anticipate most of the time for the meeting will be dedicated to the COVID-19 response, members of Congress may be eager to learn more about other priorities including efforts to address substance abuse and misuse, chronic disease, improving maternal and child health, and the level of funding necessary to make progress in these areas.
What happens after the Congressional meeting?
A meeting with a member of Congress is a great step, but in order to build a long term relationship with members of Congress it is vitally important for public health officials to remain in contact with their federal delegation throughout the entire year. Following the meeting we encourage state and territorial health officials to follow up with a personal thank you note and offer themselves as a "go-to" resource on public health matters. Also, after Hill Day, the ASTHO team continues our work to ensure state and territorial health official advocacy priorities are met when Congress makes critical decisions impacting the critical work done by health departments across the country.