2023 Legislative Session Update: Part Two
May 04, 2023 | Maggie Davis, Andy Baker-White, Lillian Colasurdo, Lana McKinney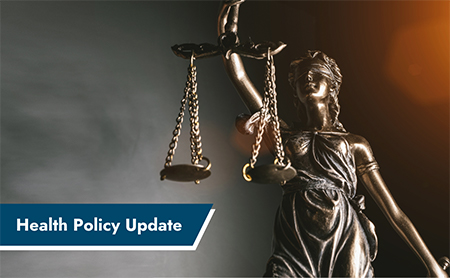 Last week, ASTHO provided a brief update on five of our top 10 public health state policy issues to watch during the 2023 state and territorial legislative sessions—this update looks at the remaining five issues. By the end of April, at least 15 states concluded their regularly scheduled 2023 sessions, with several states passing laws on important public health issues.
Data Privacy and Modernization
ASTHO anticipated state efforts to increase demographic data collection in support of improved delivery of public health and healthcare services, strengthened protections for identifiable health data, and increased public health authorities' ability to access data more directly through systems like health information exchanges.
State legislatures have focused heavily on health data privacy this session. New York recently enacted S 837, which clarifies protections for identifiable information held in the state's immunization information system. In Washington State, the legislature recently passed HB 1155—also known as the My Health, My Data Act—that provides comprehensive protections for consumer health data. This legislation requires notification and consent from the patient before any health data can be collected or shared with entities not covered by HIPAA. It also allows the patient or consumer to withdraw their previous consent and have their data deleted from the app or website storing it.
Maryland's General Assembly has also passed legislation increasing the privacy protections for reproductive health data in companion bills HB 812 and SB 786.
Reproductive Health
ASTHO projected that states and territories would introduce legislation to expand pharmacist dispensing of prescription contraception. As of March 1, 2023, 17 states and Washington, D.C. allow pharmacists to provide contraception care. ASTHO identified and at least 13 states (Connecticut, Iowa, Indiana, Massachusetts, Maine, Missouri, Montana, New Jersey, New York, Oklahoma, Rhode Island, Texas, and Vermont) that introduced legislation to allow pharmacists to prescribe or dispense contraception during the 2023 legislative sessions.
Three of the above states passed laws expanding pharmacists' scope of practice to allow greater access to contraceptives. New Jersey enacted S 275 in January to allow pharmacists to dispense self-administered hormonal contraceptives (e.g., birth control pills) in accordance with rules approved by the state pharmacy and medical boards. New York's legislature passed A 1060 on March 31 allowing pharmacists to dispense self-administered contraceptives in accordance with regulations created by the health commissioner. On April 11, Indiana's legislature passed HB 1568 directing the state health commissioner to issue a standing order permitting pharmacists to prescribe and dispense self-administered hormonal contraceptives.
Health Equity
ASTHO has highlighted states advancing their health equity work with funding to programs, community resources, and declaration of racism as a public health crisis. Legislators are working on strategies to improve overall rural healthcare access and update the current collection of health disparities data by making it more specific. In New York, the legislature introduce Senate Bill A 2025 to establish a healthcare disparities data collection system, while California introduced SB 435 to improve disaggregated information by specifically require state agencies to update their data collection to reflect additional Latino groups and Indigenous nations, like the United States Census Bureau reporting. Missouri introduced SB 714, which would establish a standard for disaggregated data collection by public health entities.
To bring additional awareness to rural health, New Jersey's legislature is considering ARJ 210 designating the third Thursday of November as "Rural Health Day." In Massachusetts, HD 516 was introduced for workforce grants to increase the number of mental health workers in designated "healthcare shortage areas."
Strengthening Public Health Agencies
Effectively using legal powers and maintaining a strong public health workforce allow state and territorial health agencies to protect and improve the well-being of communities. ASTHO looked at the opportunities and challenges health departments are expected to face during this year's legislative sessions, such as attempts to undermine health agency competence and to curb health agency responsibility to prevent the spread of disease. For example, bills to remove health agency authority over determining which vaccines to include as school enrollment requirements were unsuccessful in a few legislatures this year. It is important to note these bills did not move forward in the legislative process, which demonstrates continued support for transparency, accountability, and the role of the health departments in making decisions and recommendations about routine school vaccinations.
Immunization
One of Healthy People 2030's goals is to increase vaccination rates; providing evidence-based resources to support programs and policies will help the nation achieve the goal. These resources include strategies that reduce barriers to accessing vaccines, support routine childhood vaccinations, and support Immunization Information Systems (IIS). As described in a recent ASTHO health policy update, dozens of states have considered bills related to routine childhood immunization requirements for childcare centers, schools, and colleges.
At least five states introduced legislation related to their IIS system during the 2023 legislative sessions. On March 24, New York enacted S 837 to clarify privacy protections surrounding IIS data and clarify that a CDC COVID-19 vaccination card is sufficient proof of COVID-19 vaccination status.