2021 CEO Look Ahead: What is Our Next Normal?
January 06, 2021 | Michael Fraser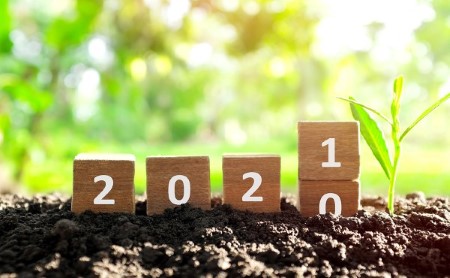 I think we all welcomed 2021 with open arms as we look to put the worst of 2020 behind us. I know I sighed a huge sigh of relief at 12:01am and embraced this new year with more anticipation than many others. We have all been through a lot—we have lost family members and friends to COVID-19, we have seen public health officials harassed and maligned, we sheltered-in-place, stayed home, and radically altered our day-to-day schedules, we have witnessed protests over police brutality and racial discrimination, and we have lived through (and still are living through it) a presidential transition unlike any other. And that is only some of the hand that 2020 dealt us.
Despite all the challenges, turmoil, and changes wrought by 2020, the work of state and territorial public health continues. What is on our ASTHO horizon as we greet this new year and the opportunities and challenges it presents? Here are a few things on my mind as I look toward the future:
Presidential Transition

ASTHO has been and will continue to be actively engaged in conversations with the Biden-Harris transition team as the new administration takes shape in Washington. We will hold introductory meetings for our board and membership to get to know new leaders and support the new Administration as we would any other presidential transition. I am excited to have had the chance to work with the Biden-Harris transition team to share the work of state and territorial public health agencies, and ASTHO, since the election.

Controlling COVID-19

We learned a lot about COVID-19 last year, and we are putting all of those lessons to use early in 2021. I am confident that we will control COVID-19 in the U.S. by the end of this year—especially as we ramp up the vaccination activity in the next few weeks and into the months ahead. Will we "get back to normal"? No. But we will get to a "next" normal—this will allow us the opportunity to get back to some of those things we miss the most.

Health Equity and Antiracism Efforts

As dominant as COVID-19 was last year, I would argue that the murder of George Floyd and the accompanying protests and activism around systemic racism and equity was just as important and significant to our lives here in the U.S. I anticipate much more substantive and important work to come as we look to finalize ASTHO's policy statement on racism as a public health issue and work both internally at ASTHO and externally with members on the important work of trust, racial healing, and transformation. This also includes a robust conversation about the role of public health in promoting community resilience and wellness, especially as communities look to invest law enforcement dollars differently than in the past.

State Spending

States and territories received historic federal investments in public health to respond to COVID-19, and they needed it. But now the hard work begins to track those dollars and identify how states and territories are using them. We are already being asked how much states have spent and what more might be needed in the future. The challenge here is to understand the complicated way that expenditures are tracked at the local, state, and federal levels.

Anything Other Than COVID!

I don't know about you, but I made a resolution to spend time in 2021 thinking about something—anything—other than COVID for at least part of every day! With the myriad issues impacting public health, there are ample topics to consider: Existing work to end the HIV/AIDS epidemic, improving maternal and child health, addressing adverse childhood experiences, furthering our work around behavioral health and public health integration, and yes, even thinking about other communicable and chronic disease burdens that impact our collective health and wellness.
Of course, this list is not exhaustive, nor does it reflect all the work ASTHO and state and territorial health agencies are tackling. Our comprehensive scan covers current and emerging issues like COVID, but also many others and is based on staff review of state and territorial strategic plans, ASTHO research, and requests that states have made of ASTHO for support.
From our ASTHO family to yours, we wish you a happy 2021!