States Aim to Improve Outcomes for People Experiencing Substance Use During Pregnancy
August 25, 2023 | Sowmya Kuruganti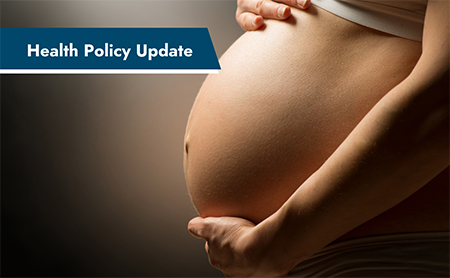 Opioid use disorder (OUD) during pregnancy is linked to poor health outcomes including maternal death, poor fetal growth, preterm birth, stillbirth, and neonatal opioid withdrawal syndrome. The was a record high number of overdose-related deaths in the United States among pregnant and postpartum people in 2020, with the rate increasing by 46% from 2019 and 81% from 2017. Overdose-related deaths tend to be more likely among those who are between six weeks and one year postpartum, compared to those who are pregnant or in the early postpartum period.
In October 2022, the Office of National Drug Control Policy released a report affirming their commitment to increase access to care for pregnant and postpartum people with substance use disorder (SUD). State legislators can help improve maternal health outcomes by recognizing SUD as a significant cause of pregnancy-associated death and highlighting the need for increased SUD screening and treatment among pregnant people. For example, California (ACR-2), Delaware (HCR3), and New York (J296) declared January 23 Maternal Health Awareness Day to raise awareness of maternal health issues such as SUD.
In 2023 legislative sessions, states considered measures to improve access to care for pregnant people experiencing SUD, increase provider knowledge of screening and treatment practices, coordinate care for conditions co-occurring with SUD (e.g., depression), and keeping families together, with particular focus on the birthing parent and newborn.
Connecticut enacted SB 9, requiring the Departments of Mental Health and Addiction Services, Social Services, and Children and Families to develop a plan for implementing programs to treat child caregivers with SUD. The plan must (1) include expanded access to care for pregnant and parenting people with SUD, (2) provide access to treatment, recovery, and peer support services, and (3) coordinate care for perinatal people with SUD. The bill also requires hospitals to train staff who work with pregnant or postpartum people on perinatal mood and anxiety disorders and implicit bias.
Washington enacted HB 1168, requiring the state's Health Care Authority to contract with providers to offer comprehensive treatment services for prenatal substance exposure and advise the legislature on ways to further increase access to diagnoses, treatment, and services for children exposed to alcohol or other substances during pregnancy and their families.
Wyoming enacted SF 79, which requires health care providers to develop a safe care plan for infants and families when caring for an infant prenatally exposed to substances. Wyoming joins approximately 39 other states that have similar statutes.
California is considering SB 363, which would establish a real-time bed availability system for inpatient and residential mental health or SUD treatment facilities. For those receiving care at perinatal residential alcoholism or drug abuse recovery or treatment facilities, the system would indicate if a bed were available for both the patient and their minor child.
Although recommendations for treatment and care of pregnant people experiencing SUD often focus on pregnancy and the immediate postpartum period, risks for the birthing parent can continue throughout the 12-month postpartum period. During this time, many people experience lapse or discontinuation of treatment sometimes related to losing insurance coverage.
While Medicaid covers over 40% of births nationally, pregnant people in states that have not implemented 12-months of continuous postpartum Medicaid eligibility under the American Rescue Plan or Medicaid expansion under the Affordable Care Act may lose coverage after 60 days postpartum. During this legislative session, at least 13 states passed legislation to implement 12-month postpartum Medicaid expansion. With 37 states total having taken this step—and with 87% of pregnant people who lost Medicaid coverage in 2019 residing in one of these states—coverage should increase significantly.
Despite many positive steps, pregnant and parenting people still experience unique barriers to access and treatment for substance use disorders, which can hinder them from receiving care that may lower their risk of poor outcomes. Jurisdictions can consider crafting comprehensive substance use policies that center on pregnant people, minimize bias and stigma, and examine and confront structural racism.
State and local leadership can also apply other policy levers, such as seeking funding to support initiatives that prevent and treat SUD among pregnant people and expand access to needed services. Regardless of approach, a 2019 leaders roundtable convened by ASTHO and the National Academy for State Health Policy (NASHP) recommends that organizational partners align policies, funding, and data sharing practices to effectively work towards shared goals of preventing and treating SUD.
Given the profound impacts of untreated substance use on pregnant and postpartum people and their infants, ASTHO expects that states will continue to consider and enact protective policies that increase access to care for SUD among this population. ASTHO will continue to monitor and report on this important maternal public health issue.
Additional Resources