States Support Postpartum Health with Medicaid Expansions
May 18, 2023 | Sowmya Kuruganti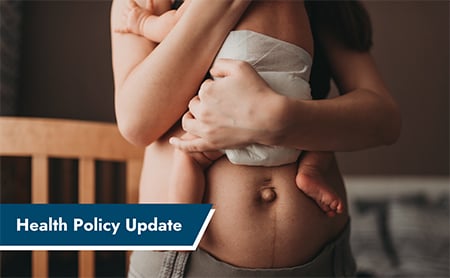 National Women's Health Week's 2023 theme—Women's Health, Whole Health: Prevention, Care and Wellbeing—is a reminder that postpartum care is critical for the long-term health of the birthing parent and baby. The first year after pregnancy can be full of physical, emotional, and mental health challenges that have long-term or even life-threatening health impacts without timely diagnosis and treatment. In September 2022 CDC reported that 23% of pregnancy-related deaths occur from seven to 42 days postpartum, and 30% of deaths occur 43-365 days postpartum. Among all pregnancy-related deaths occurring from 2017 to 2019, approximately 84% were deemed preventable.
Black and American Indian and Alaskan Native women have two to three times higher rates of pregnancy-related death compared to white women. These disparities, like others, are driven by social and economic factors that are rooted in structural and systemic racism and discrimination. Health insurance coverage is one such factor that supports positive maternal health outcomes by facilitating access to care before, during, and after pregnancy. In the United States, 40% of births are covered by Medicaid, which is the primary source of health coverage and access to care for those of low income.
Organizations like ASTHO and the Association of Maternal and Child Health Programs support extending Medicaid coverage through one-year postpartum to combat disparities in maternal health outcomes.
Federal Legislation for Postpartum Coverage under Medicaid
For the majority of states that have adopted Medicaid expansion under the Affordable Care Act (ACA), all people with income up to 138% of the federal poverty level (FPL) are eligible for Medicaid. In states without Medicaid expansion, pregnant people can be eligible for coverage during pregnancy and up to 60 days postpartum under federal law. After 60 days postpartum, these people may lose coverage for the rest of the year-long postpartum period based on general state Medicaid eligibility requirements.
Prior to 2021, states could extend Medicaid coverage to postpartum people through a section 1115 demonstration waiver or through state funds. The enactment of the 2021 American Rescue Plan Act, gave states another option to extend Medicaid coverage to 12 months postpartum via state plan amendment for five years. So far in 2023, CMS has approved the State Plan Amendments for five states (Alabama, Arizona, Colorado, Oklahoma, and Rhode Island) implementing a 12-month postpartum expansion. To date, a total of 33 states have expanded Medicaid coverage to 12 months postpartum via Section 1115 demonstration waiver or state plan amendment.
2023 State Legislative Session
Depending on states rules for modifying Medicaid coverage the legislature may need to direct the health department to submit a state plan amendment. So far in 2023, three states enacted legislation related to expanding coverage to 12 months postpartum. In Mississippi, SB 2212 authorizes the state's Division of Medicaid to provide 12 months continuous postpartum coverage to people who qualify. Utah's SB 133 extends coverage for 12 months postpartum for women eligible for Medicaid during pregnancy. In Wyoming, HB 4 temporarily extends Medicaid coverage for qualifying pregnant women for 12 months postpartum, ending March 31, 2027.
Other states introduced bills to extend postpartum coverage during this session.
Studies have demonstrated numerous benefits of extending Medicaid coverage for postpartum people and, given these positive impacts, ASTHO expects that more states will take action to extend Medicaid to 12 months postpartum. ASTHO will continue to monitor and report on this essential maternal public health issue.