Reflections From the Field: Pacific and Atlantic Jurisdictions Remain Resolute Amid Adversity
December 14, 2021 | Karl Ensign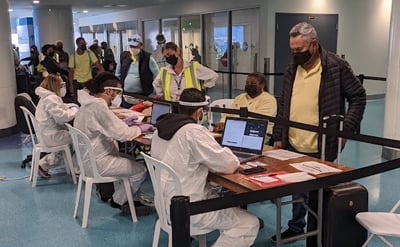 In the late fall of 2021, ASTHO leadership visited select jurisdictions in the Pacific and the Atlantic for the first time since COVID-19 curtailed travel to these regions. It was fantastic to reconnect with our leadership and dedicated staff! Unsurprisingly, we heard about the jurisdictions' challenges, including chronic ones related to funding and infrastructure, as well as new challenges resulting from the global pandemic.
However, we also heard good news and came away impressed with the leadership vision, workforce resiliency, innovative approaches to programs and funding, and the positive outcomes achieved with respect to low COVID-19 community transmission and high vaccination rates.
Over the past year, Pacific and Atlantic jurisdictions received attention for their successful and innovative approach to the pandemic. A January 2021 ASTHO blog post highlights the great lengths jurisdictions took to avoid the introduction of COVID-19, including shuttering borders, and the groundbreaking regional response around coordination of supply acquisition, repatriation, and quarantine policies and procedures.
The Commonwealth of the Northern Mariana Islands (CNMI), for instance, used aggressive community-based testing and contact tracing to keep their rates of COVID-19 down—strategies they are employing again with their current surge. Meanwhile, an NPR article from October 2021 highlights the high vaccination rate in Puerto Rico, which is not uncommon in these jurisdictions.
These approaches eased our minds, but they also complicated our travel plans, requiring additional planning and preparation prior to our visit. As is the case with many jurisdictions, all travelers to Puerto Rico and the CNMI are required to register and complete a Declaration Form in advance of travel. Both Puerto Rico and CNMI use the Sara Alert monitoring and reporting system in their data collection efforts.
Upon arrival, entry restrictions are evident as all jurisdictions require proof of vaccination and/or negative test results as part of the clearance process. Upon landing in Puerto Rico, all passengers are screened for proof of vaccination or negative test results prior to self-isolation. In Guam, all inbound travelers from a Level 3 or higher jurisdiction are required to quarantine for seven days in a government facility unless they have been vaccinated. CNMI, which is the strictest of the jurisdictions, requires travelers to quarantine in a government facility regardless of vaccination status for at least five days.
But it doesn't end there! What do preventive measures look like on the ground? The short answer is: very different than the states. To the credit of public health efforts in these jurisdictions, masking is the norm and mask adherence is extremely high in indoor settings, approaching 100%. Restaurants require proof of vaccination to enter, and temperature checks prior to entering hotels and other businesses and enclosed public areas are not uncommon.
The COVID-19 response and mitigation measures have been all-consuming for the public health leadership and workforce that were stretched thin prior to the pandemic. However, all jurisdictions continue to show impressive leadership on other public health fronts as well. In Guam, we met with the governor and Joint Region Marianas—the body providing management across all Department of Defense components—on the planning and development of a $32 million Guam public health laboratory capable of Biosafety Level 2/3 analytical testing for the region.
COVID-19 has made clear the need for quick and accurate testing and surveillance in the region and the interdependencies of the civilian and military populations. ASTHO's role in advocating for the appropriation of this funding was recognized and we continue to stay involved in this impressive effort along with other partners including the Association of Public Health Laboratories, Pacific Island Health Officers' Association, and multiple federal agencies.
In CNMI, we learned of impressive efforts to braid funding across multiple programs and funding streams impacting population health. For instance, all programs and funding for non-communicable disease were braided to fund four pillars: healthy communities, health management, surveillance and evaluation, and health promotion and community relations. The Community Health Care Corporation's NCD division has reorganized itself to reflect this framework along with the client services provided, while adhering to required program-specific federal tracking and reporting.
Every jurisdiction is focused on improving the efficiency and effectiveness of departmental business processes. CNMI has led the way with the establishment of a centralized grants management office, a move which Guam and Puerto Rico are in the process of replicating.
Carlos Mellado López, Puerto Rico's secretary of health, was quoted in a recent article on the subject in Hospitales, the official publication of the Association of Hospitals in Puerto Rico: "When I arrived at the department, I basically found a very large, bureaucratic structure, which in many situations had many problems with federal funding, perhaps with the procurement process, and obviously in the middle of all this, the pandemic. We have tried to create a structure that is more agile and more accessible, where it is easier to use dollars, and within the agency, we have established various strategies with the different directors in each department to create a Project Management Office to see what specific projects we want to develop in these four years and be able to have specific goals."
Although we returned home seriously jetlagged, our spirits were buoyed by the spirit of resiliency and innovation we encountered. These are indeed historical times and we witnessed leadership and staff admirably rising to meet the challenge in the Pacific and Atlantic.