Overcoming Baked-In Inequities and Promoting Health Equity in the Island Areas
February 22, 2023 | Julia Von Alexander, Alex Wheatley, Neyling Fajardo, Kelsey Donnellan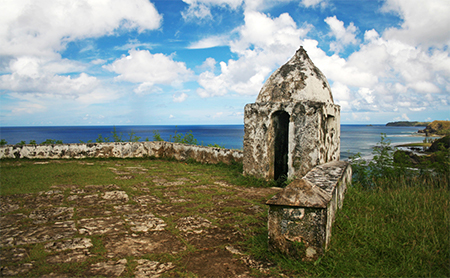 The National Initiative to Address COVID-19 Health Disparities Among Populations at High-Risk and Underserved, Including Racial and Ethnic Minority Populations and Rural Communities grant has allowed the states and island areas to grow their health equity efforts. However, many health equity frameworks have been built with states' contexts in mind, and do not always translate to island areas' specific contexts. For example, many of the islands use the framing of human rights, colorism, and structural exclusion instead of health equity, racism, and structural oppression. It is therefore important to consider how to best apply health equity concepts to island areas.
When considering health equity, it is important to understand history and its influence on disparities and current health equity efforts. The U.S. island areas have rich histories layered with colonial influence, geopolitical tensions, and a profound connection to their culture, communities, and land. To address health equity in the island areas is to confront a long history of colonialism, much of which continues today, while building upon their strengths.
An Identity Long Preserved
People have lived in the islands for thousands of years, with many of the original inhabitants arriving in 1000 B.C. or earlier. In the Pacific, these communities were clan-based and some had matrilineal societies. In the Atlantic, the Taíno developed a complex religion and built communal villages.
Amid overwhelming political influence, military presence, and large-scale cultural blending, the island areas have worked hard to retain distinct and proud identities, both centuries ago and today. Island communities have resisted colonialism by maintaining cultural and religious traditions even as they meld with those of colonizing countries, continuing to eat traditional foods, passing land ownership laws that prevent foreigners from owning land, and retaking abandoned spaces for community care. 
These identities—characterized by a commitment to togetherness and the whole-of-island community—have become among the island areas' biggest strengths. The importance of community is reflected in how island area residents live their lives and their approach to public health.
When Community is Put to the Test
This tradition was put on full display during the COVID-19 pandemic and even extended to include support of neighboring jurisdictions. For example, the Republic of the Marshall Islands' (RMI) response was lauded as "superb" by HHS and is considered an exemplary model of shared care. Additionally, when the Federated States of Micronesia (FSM) and RMI experienced heavy community COVID-19 spread this summer for the first time since the start of the pandemic, the U.S. Affiliated Pacific Islands (USAPI) united in response. American Samoa and FSM supported RMI by sending spare medicine to RMI during its outbreak. RMI then sent their extra doses to FSM for their outbreak. The Pacific Islands Health Officials Association was essential in facilitating these exchanges and providing a forum for them to be able to take place.
Themes of sustainability and community inclusion reverberate across islands' health equity initiatives. As the USVI launched its first community health worker program on their islands, the island health agencies made sure to develop a career ladder to discourage career stagnancy and improve retention. Additionally, USVI held a conference to develop a shared understanding of health disparities and health equity with their community partners. Similarly, Palau is including community partners in their process of defining health equity indicators through an advisory group and a symposium. In Puerto Rico, health agency staff are working to build the capacity of community-based organizations to apply for and implement grants. Over time, the islands hope this work will support a culture of trust in public health and the healthcare system.
The Cycle of Colonialism and Health Inequity
When discussing health equity in the context of the islands, it is important to acknowledge the long history of colonialism in these communities, or the practice of maintaining control over other people or areas.
Beginning as early as the 15th century, the island areas have been claimed or colonized by wealthier and more powerful nations, who sought control over the islands for political, economic, or military gain. The United States Virgin Islands (USVI) have one of the most storied histories of foreign takeover and colonization. All told—from Spain laying claim to the islands in 1493 to the United States purchasing them from Denmark in 1917—seven flags have flown over the USVI's largest island of St. Croix.
Meanwhile, many of the Pacific islands—such as the Commonwealth of the Northern Mariana Islands (CNMI), FSM, and Republic of Palau—came under U.S. authority following global land disputes during World Wars I and II, after centuries of colonial control being exchanged between European nations and Imperial Japan. Many of these islands did not receive any sovereignty until later, such as American Samoa, which was not able to elect its own governor until 1977.
With centuries of war and colonial control by distant nations, the island areas have not been afforded the political or economic means necessary to develop a sustainable healthcare infrastructure of their own, from hospitals to a skilled healthcare and public health workforce. As a result of years of underinvestment, the island areas rely on off-island care. This relationship further deepens the cycle of colonialism and dependency.
U.S. Military and Political Influence in the Islands
While under U.S. authority, islands in both the Pacific and Atlantic have also been used to test bombs, resulting in significant health issues including higher cancer incidence for the people living nearby, as well as the displacement of people from their islands and sacred sites. Far from being a uniquely historical occurrence, the United States continues to exercise major military influence in the islands. In Guam, for instance, the U.S. military inhabits as much as one-third of the island's area and their activities pose threats to water, soil, and air quality.
Additionally, island residents have not been afforded equal rights. U.S. policy influences social determinants of health in the islands, yet territorial residents cannot vote for President and are not represented in Congress. This has important implications. For example, a recent Supreme Court ruling stated that Congress can exclude residents of Puerto Rico from a federal program that aids at-risk populations. Moreover, there are inequities with respect to funding Medicaid in the territories and federal grants. Unlike state Medicaid programs, territorial Medicaid programs have a cap on total federal contributions.
Similarly, the island areas are not always included in those eligible for federal grants, and grant allocations based on populations do not consider the increased cost of service delivery in the islands due to their remote populations and higher costs of business. This means that the island areas often do not receive sufficient funding to meet their needs. Equity advocates also point to the Jones Act as hampering the island areas' ability to grow and flourish. The law, which requires that shipping between U.S. ports be on U.S. ships, limits and influences what can be imported in the territories, while increasing the cost of imports.
Reinforcing ASTHO's Commitment to the Islands
The island areas' unique story demands distinct attention and assistance, and ASTHO remains committed to supporting these communities. This begins, as always, with listening, and serving these jurisdictions in the ways we are asked to serve and support them. As a part of this, ASTHO's current board includes two island member-specific positions.
ASTHO is providing technical assistance based on requests from the island areas, including creating learning opportunities and providing resources on best practices for engaging partners and staff. We also are excited to continue to highlight voices and stories from the island areas and plan to share updates on their health equity work, like creating health equity metrics and working with community-based organizations. In our final blog in this series, we will contextualize health equity and human rights in the larger island area picture through an island health equity framework.
ASTHO has eight members from the territories and freely associated states, jurisdictions collectively referred to as island areas. Sharing Island Stories on Health Equity is a series of blog posts based on conversations held at the Atlantic and Pacific COVID-19 Health Equity Action Institutes in spring of 2022. Although implicit in our work with jurisdictions, these convenings were the first time ASTHO's island area members were centered in a conversation about health equity, marking a historic moment for ASTHO's relationship with its island members.
This product was supported by funds made available from the Centers for Disease Control and Prevention, National Center for STLT Public Health Infrastructure and Workforce, through cooperative agreement OT18-1802, Strengthening Public Health Systems and Services Through National Partnerships to Improve and Protect the Nation's Health award # 6 NU38OT000317-04-01 CFDA 93.421. Its contents are solely the responsibility of ASTHO and do not necessarily represent the official views of the U.S. Department of Health and Human Services/Centers for Disease Control and Prevention.