Building a More Equitable Food and Nutritional Assistance System Post-Pandemic: Perspective From Feeding America
May 10, 2021 | Jadi Romero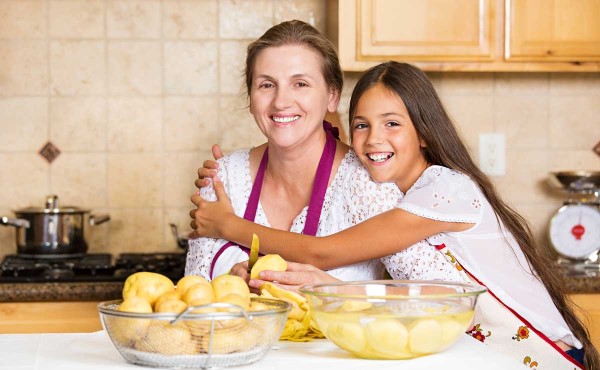 The need for food and nutritional assistance is growing. Based on Feeding America's food insecurity projections released in March, it is anticipated that 42 million people may experience food insecurity this year—up from 35 million pre-pandemic. The job loss in communities as businesses had to shut down or reduce capacity has left many families across the country relying on food banks. In fact, food banks in the Feeding America network distributed 6.1 billion meals to individuals and families during this pandemic, an increase of 43% from 2019. Many of the people who have fallen into food insecurity are experiencing it for the first time in their lives, as our food pantry partners across the country report that 35% or more of the people they're serving today had never received charitable food prior to the pandemic.
Feeding America and its network of 200 food banks observed, as did many organizations across the country, the significant disparate impact that COVID-19 had on communities of color due to pre-existing health and economic disparities facing these communities. Higher rates of food insecurity exist in Black, Latino, and Native American communities – which were also seen to be hit hardest by COVID-19 and have higher rates of chronic diseases. Feeding America sees an important opportunity for food banks to partner with state and local public health agencies and other cross-sector partners to address food and nutrition insecurity broadly as well as to reduce disparities.
The COVID-19 Pandemic Has Opened the Door to New Partnership Opportunities
Throughout the pandemic, Feeding America's partnerships have been critical in ensuring that food banks can get food out the door and into the hands of the community safely and efficiently. For example, food distribution sites looked to their local and state public health officials and CDC to communicate clear protocols to operate safely for staff, volunteers, and the people they serve. Additionally, to serve vulnerable seniors, food banks (such as those in Ohio and Texas) partnered across sectors with farmers, food Rx programs, and organizations such as Highway Patrol, Meals on Wheels, and churches to get food to home-bound seniors.
COVID-19 has also demonstrated the importance of cross-sectional work to address the social determinants of health among underserved communities. Feeding America's network of food banks provide a variety of programs and services, ranging from food pharmacies and nutrition education to job training and assistance with applying for benefit programs. Public health leaders may play a role in helping food distribution sites find ways to better direct services to specific communities or to increase awareness of those programs being offered.
Food distribution sites and other nonprofit organizations in local communities employ and work with individuals who have experienced food insecurity. These organizations can also help support public health agencies by bringing the voices of people with lived experience to the table, strengthening programs and better identifying and serving a marginalized community.
Opportunities to Transform Service Delivery to "Bounce Forward" to a Healthier, More Equitable Post-COVID World
The Supplemental Nutrition Assistance Program (SNAP) offers benefits to low-income families that can be implemented immediately, often within a couple of weeks of enrollment. Additionally, the scale of SNAP is dramatic: For every meal provided by a Feeding America food bank, SNAP provides nine. Most food banks in the Feeding America network do SNAP application assistance for potentially eligible recipients, as well as also often engaging in WIC and Medicaid application assistance. During COVID-19, our members are reporting a significant increase in requests for assistance.
Feeding America has stated that the federal COVID-19 relief investments made to SNAP, child nutrition programs, and the Emergency Food Assistance Program (TEFAP) have been crucial in ensuring that food banks and other non-profits can meet the needs facing their communities. Increasing SNAP benefit allotments by 15% means individuals can better meet their food needs, as SNAP historically is inadequate in lasting the entire month for a household. This is crucial especially as grocery store prices have gone up due to the disruptions in the food supply chain.
Some strategies to continue these strides in increasing uptake of SNAP could include encouraging policymakers to streamline enrollment in SNAP and WIC programs (like work that's been done in Michigan and New Jersey) or finding ways to support SNAP and WIC vendors to increase access to healthy foods in food deserts (e.g., Illinois, Texas). In addition, policymakers could explore how to ensure that SNAP participants can continue to purchase groceries online, which could especially positively impact homebound seniors.
In addition, the U.S. Department of Agriculture has waived certain distribution requirements on federal commodities that were distributed by food banks through programs such as TEFAP or the Commodity Supplemental Food Program (CSFP). These waivers allowed for food banks to respond innovatively to challenges brought by the pandemic by utilizing drive-through distribution, including having recipients call while they are in line to fill out their application. It will be important to continue to monitor the effectiveness of these changes and explore the feasibility and benefit of allowing these flexibilities beyond the public health emergency.
Prior to and throughout the COVID-19 pandemic, it has become well-understood that what people consume matters for themselves, their children, and the environment, especially as the correlation between obesity and COVID-19 hospitalizations became apparent. As we move forward, partnering across sectors, getting resources into the hands of local organizations and communities most in need, and making changes to benefits and service delivery can be an exciting part of getting use closer to realizing a healthier and more equitable post-COVID-19 world.