Building a Culture of Belonging Through Leadership
October 07, 2022 | ASTHO Staff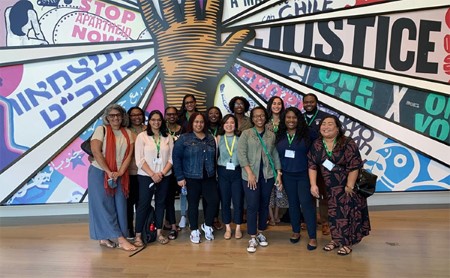 Leadership is the art of inspiring and motivating a team to fulfill an organization's vision, mission, and strategic plan. The work of leadership is not always easy, and it takes a systematic approach to do it right. Building a culture of belonging through leadership takes insight, planning, organizational buy-in, frameworks, systems, and true flexibility. In a presentation from Dr. Marissa Levine, director of the Center for Leadership in Public Health Practice, scholars in the Diverse Executive Leading in Public Health (DELPH) program gained an insightful approach to looking at the individual, organizational, and global lens of leadership to build a sustainable culture of diversity that perpetuates a true sense of belonging for everyone.
To share their perspectives on what belonging means from the leadership lens, we spoke with three of our DELPH scholars: Nivedita Ravi-Caldwell, a senior zoonotic disease epidemiologist in the Maryland Department of Health Emerging Infections Program; Lauren Manning, CDC public health advisor for emergency preparedness at the Florida Department of Health; and, Jana Rush, director of epidemiology surveillance and informatics at the Cuyahoga County Board of Health in Cleveland.
What are your thoughts on Dr. Levine's presentation?
NIVEDITA RAVI-CALDWELL: Dr. Levine's lecture was my favorite so far in the DELPH program. She talked about changing the approach to any problem or organization by looking at it as having vitality and life, and this automatically ensures that solutions are inclusive and holistic. She also emphasized One Health, an approach that looks at the interconnectedness of all living systems. Her lecture also covered different leadership frameworks for approaching various problems in public health.
JANA RUSH: We live in a world of models, systems, and frameworks, so my takeaway from Dr. Levine's presentation was that while frameworks can help guide us, we should sometimes take a step outside of them. Stepping outside a framework can help you better understand how your community operates and get community buy-in, which is a must. We need to connect back to the community and, in some ways, get back to the basics.
LAUREN MANNING: In her lecture, Dr. Levine spoke about connections you can create at various levels: the individual, organizational, and global levels. Building connections is something I saw early on in my journey as important. As I became a leader and continued to work with communities, I knew that I needed to be genuine about my connections and think about how to work across the different levels to improve community outcomes.
What are your reflections on Dr. Levine's talk about transforming systems from mechanical to living?
RAVI-CALDWELL: People make up organizations, and people are living organisms; therefore, the organization is as living as the people in it. So, if the people feel stressed, tired, and angry, the organization will be stressed, and the culture will be unhealthy. Through my experience I have found that creating a welcoming and inclusive environment makes people happier, they then feel a sense of responsibility toward their work and coworkers, leading to a drastically altered work environment. I apply this conscious approach in every role I have had in any workplace of creating a sense of positivity and inclusion.
What are characteristics of an effective public health leader?
RUSH: Being an educator is a part of effective leadership. During my time in Cleveland, we were dealing with public health crises that were shorter in nature in comparison to COVID-19, and the leadership team was very transparent and willing to share information with the public as it came in. Honesty is also a key part of that transparency piece. Another attribute of an effective leader is investing in and understanding your team since they are the most valuable asset and resource to your organization.
What are actionable steps you believe public health institutions should take to ensure diverse leadership within health departments?
MANNING: Having diverse public health leadership really matters because we want to reflect the populations we serve. At an organizational level, we can focus on adopting new cultural norms that emphasize diversity in the workplace. We can also increase cultural competency within our organization as part of our efforts to improve health outcomes for the underrepresented communities we serve. However, cultural competency and adopting new cultural norms should not just be boxes you check off. Organizations should approach the two strategies as an ongoing process that constantly aims to improve the organizational culture but also addresses policies that create inequality.
What does it mean for you to be a part of a program focused on bringing diverse perspectives to public health leadership?
RUSH: The DELPH program means everything to me. This program has allowed me to see myself and get more clarity about my leadership journey. It has helped me see that I really do belong here, and that I should keep moving and pushing forward because my voice and perspective matters.
RAVI-CALDWELL: It means empowerment. What this program is doing is powerful. There is a concerted effort to uplift members from underrepresented groups and give them an edge by preparing them to meet the incredibly high expectations they will inevitably face. DELPH ensures that its scholars are not only ready to meet the challenges ahead but also be successful. In my opinion, this is a quiet revolution.